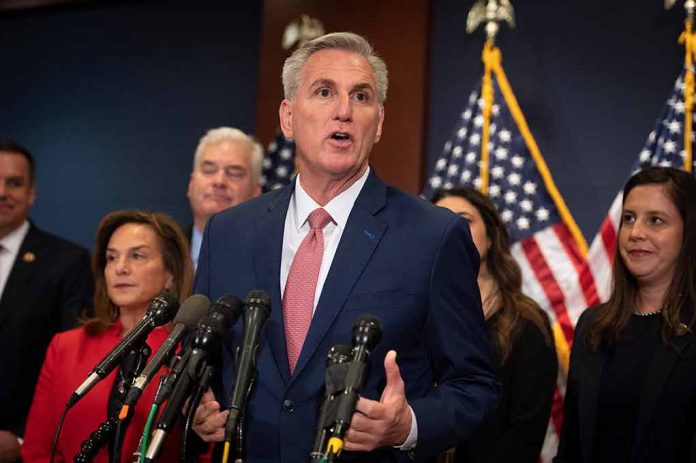 (LibertySons.org) – The House Oversight Committee, which has been investigating the First Family since January, moved forward one more step in its impeachment inquiry against President Joe Biden. GOP leaders believe they've uncovered evidence that points to obstruction, corruption, and abuse of power on the president's part. The first public hearing on the matter has been confirmed for Thursday, September 28.
ABC News reports that the committee is working hard to ensure it's following every possible lead that could indicate a money trail. They insist the American people demand transparency in their government, and they also want those who've defied the people's trust to answer for their actions.
Chairman James Comer (R-KY) told the news outlet that the committee planned on calling three witnesses to review and explain the evidence they'd collected so far. They also plan on issuing subpoenas, possibly within the week, for the bank records of First Son Hunter Biden and Joe Biden's brother James.
The Biden administration has denied any wrongdoing on the president's part, brushing off the House committee's actions as political theater. The Associated Press states that the president isn't concerned the probe will go anywhere.
Biden accused GOP lawmakers of moving forward with impeachment "because they want to shut down the government." He pointed specifically to lawmakers like Rep. Marjorie Taylor Greene (R-GA), who he claims started their terms with an agenda to impeach him.
Republicans in the committee believe they can connect President Biden to shady business dealings that benefitted his son and possibly other close family members, but not all GOP members of Congress were sold on moving forward without a vote.
Sen. Mitt Romney (R-UT) said he hadn't seen enough evidence to justify an impeachment trial. Sen. Lindsey Graham (R-SC) felt the proceedings would have been more legitimate in the eyes of the American people if the House had taken the formal route on the matter.
The inquiry comes amid new threats of government shutdown, with lawmakers scrambling to agree on federal spending bills and their final deadline fast approaching.
~Here's to Our Liberty!
Copyright 2023, LibertySons.org