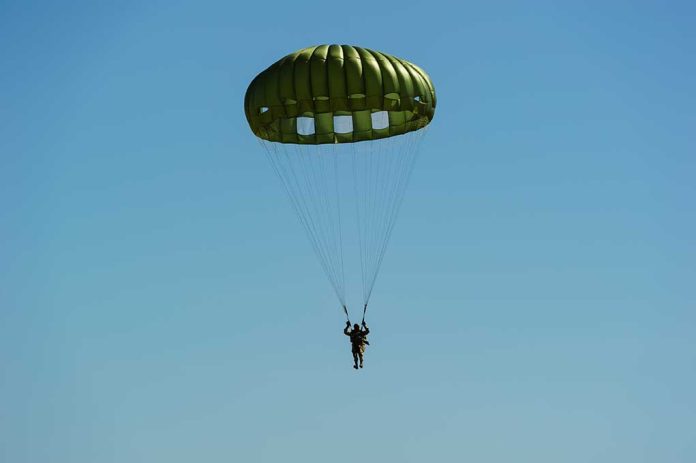 (LibertySons.org) – Most people could only hope to live long enough to see their 100th birthday. If they are so lucky, they may plan a low-key birthday party. But, for one WWII veteran, keeping things mellow wasn't in the cards.
Tom Rice served as a platoon sergeant in the 101st Airborne, overseeing paratroopers during Operation Overlord at Normandy during WWII — the D-Day Invasion. The veteran parachuted from a WWII plane to a landing spot at the Coronado Hotel in San Diego to celebrate his 100th birthday on August 15.
D-Day Veteran Parachutes Out Of A Plane To Celebrate His Birthday. The Video Is Pure America https://t.co/mmkPHa67Xf

— Daily Caller (@DailyCaller) August 18, 2021
Rice had the assistance of Skydive Palatka, a local skydiving center, jumping in tandem with instructor Art Shaffer. The two have some history. In 2019, they parachuted from a plane at Rice's old stomping grounds in Normandy. Rice made that jump to celebrate the 75th anniversary of D-Day.
It's safe to say that Tom Rice isn't your typical older man. But, of course, the men who fought in WWII weren't your average Joes. The Greatest Generation is a far cry from today's Gen Z.
Rice's generation saw more than its fair share of struggles, from WWII to the Great Depression and other significant challenges. Rice serves as a shining example of the fortitude and strength that came to represent the Great Generation. Unfortunately, there aren't many of his contemporaries left, and we need to treasure and celebrate the ones who remain and the lessons they can teach us.
Here's to Sergeant Rice and the guts he has to keep hopping out of planes at the prime age of 100. Happy Birthday, sir, and thanks for your service.
~Here's to Our Liberty!
Copyright 2021, LibertySons.org