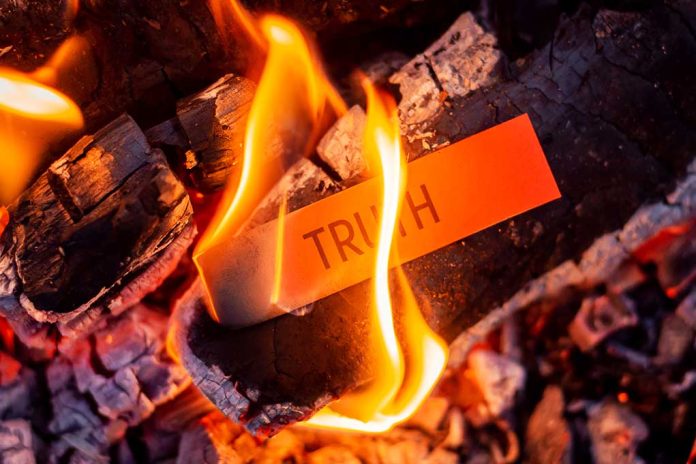 (LibertySons.org) – News from the January 6 incident at the US Capitol building continues to keep coming as new information rises to the surface. The polarizing event always comes back to the life lost that day: Ashli Babbitt.
The US veteran died due to a gunshot wound from a DC Metropolitan Police officer as she climbed through an already broken window just outside the House speaker's office. Babbitt did not have any weapons in her possession at the time.
Under a Freedom of Information Act request, Judicial Watch secured documents from the Chief Medical Examiner's (OCME) office in DC on August 3. The papers showed the OCME submitted a request to cremate Babbitt's remains only two days after taking custody of her body.
DC Medical Examiner's Officer Requested Cremation of Ashli Babbitt's Remains 2 Days after Murder — Email Sent to DC Govt. Was Returned in Chinese Characters https://t.co/KiykQcJKAr via @gatewaypundit

— Greg Karnes (@realGregKarnes) August 4, 2021
The file also revealed a request to limit access to her file due to the case's "high profile nature." Additionally, the file contains undeliverable email responses in Chinese characters to an alleged US government employee for some unknown reason.
The OCME didn't release Babbitt's cause of death until April 7. According to the autopsy report, Babbitt died from a gunshot wound to the left shoulder.
Officials have not formally released the name of the officer involved in the shooting either. At this point, the only known fact is the Justice Department has refused to press charges due to insufficient evidence, and they didn't announce that determination until April.
The whole case of Mrs. Babbitt's death is concerning. Why is there so much secrecy? What are the reasons for the delays in information to the public, and why did the OCME rush to cremate her body? This cryptic situation draws suspicion and leads many to speculate politics are at play.
~Here's to Our Liberty!
Copyright 2021, LibertySons.org