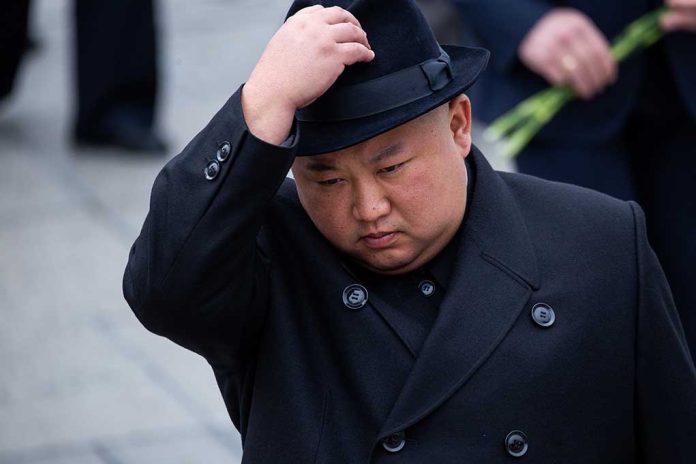 Kim Jong-Un CRISIS — "Funeral" Report Comes Out
(LibertySons.org) – Newsmax reported North Korean leader Kim Jong Un, military members, and citizens attended a funeral for a top official after the story surfaced from the Korean Central News Agency (KCNA) on May 23. The crowds were a first for the nation because the country suffered an Omicron variant outbreak earlier in May and went under a strict lockdown. It is unknown what the current state of the virus is within the nation as the government has been highly secretive about it.
A large number of North Koreans including leader Kim Jong Un have attended a funeral for a top official despite outside worries about its admitted COVID-19 outbreak. https://t.co/MQ07d8F9k0

— ABC News (@ABC) May 23, 2022
According to Newsmax, the nation claims to have only 68 deaths from an unidentified fever. Leaders have admitted to only a small number of actual COVID-19 infections. KCNA stated the fatality rate of the fever infection, which outsiders assume to be the coronavirus, was nearly 0.002%. Experts state that underreporting and hiding details is likely a ploy to protect the leader's political position.
The funeral occurred on May 22, and reports say it was for Hyon Chol Hae, who served as a marshal in the Korean People's Army. He was a mentor of Kim's, helping the leader prepare to take over the country upon his father's death in 2011.
The KCNA published photos of the North Korean leader, who did not wear a facial covering, alongside others with masks. He carried Hyon's coffin and tossed dirt into the grave.
~Here's to Our Liberty!
Copyright 2022, LibertySons.org