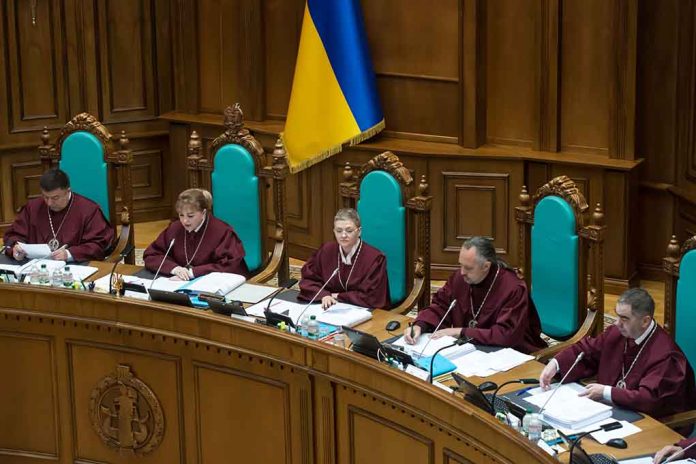 First War Crimes Trial – Russian Soldier in the Hot Seat
(LibertySons.org) – The death toll in the Russian war on Ukraine has mounted, and many people have called for justice against alleged war crimes that have rocked the smaller European country. The Guardian reported Vadim Shysimarin, a 21-year-old Russian soldier, was in criminal court on May 13, facing accusations of murder. Prosecutors say he commanded the Kantemirovskaya tank division. His case is the first war crime trial for Russian soldiers, but experts expect his to be far from the last.
The Case Details
Shysimarin faces charges for killing an unarmed 62-year-old civilian in Chupakhivka while he was simply riding his bike down the street on February 28. After the alleged murder, he and four other Russian soldiers hopped into a nearby vehicle to flee from the Ukrainian military. Officials claim the soldier shot the man, so he couldn't report the unit's location to Ukrainian authorities. The victim was just yards away from his home.
The prosecutor's office said it has enough evidence, including the rifle used in the incident, to prove premeditated murder, for which Shysimarin could serve up to life in prison if convicted. The New York Times reported his indictment would happen on May 18.
War Crimes in Ukraine
According to The Guardian, Ukraine's general prosecutor noted over 11,000 incidents of war crimes in the nation. On March 23, Secretary of State Antony Blinken formally recognized Russia's guilt for committing war crimes in its conflict with Ukraine. He noted the State Department would continue to document the actions of Putin and the Russian military to gather evidence of further criminal activity.
On May 4, a group of Democratic and Republican senators proposed a bill that would allow for more focus on collecting evidence of war crimes committed by Russia. The House also presented a bill that passed on April 6 with bipartisan support.
In a press briefing on May 10, Head of the UN Human Rights Monitoring Mission in Ukraine, Matilda Bogner, addressed the situation in the country. She explained there are multiple reports of war crimes and human rights violations. Bogner reported over 3,300 civilian deaths and more than 3,600 civilian injuries since Russia launched its attack against the nation, although she noted the actual numbers are likely much higher.
Bogner talked about how she visited areas in Ukraine where homes, schools, and hospitals no longer stood after bombings and attacks by the Russian military. She also noted accounts of sexual violence against girls and women.
World leaders and organizations continue to investigate and gather information officials will likely use to prosecute Russian war criminals. More cases are sure to result from the conflict as prosecutors begin reviewing the evidence.
~Here's to Our Liberty!
Copyright 2022, LibertySons.org