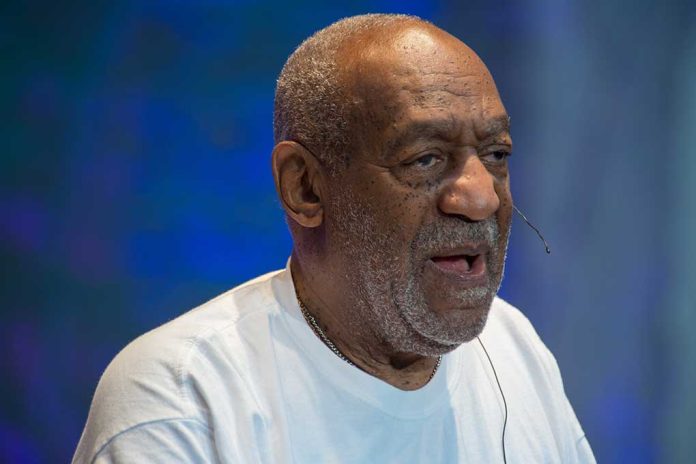 Bill Cosby Gets More Devastating News
(LibertySons.org) – Bill Cosby continues to face accusations of sexual assault, even after his release from prison. The most recent jury verdict in Santa Monica, California, found him guilty of abusing a then-16-year-old in 1975 at the Playboy Mansion. Judy Huth said she felt "vindicated" by the court's decision.
"Beyond its significance to Ms. Huth, who first came forward with her accusations in 2014, the verdict offered a degree of satisfaction for many of the women who for years have accused Mr. Cosby of similar abuse." #supportsurvivorshttps://t.co/kc3SWhhMzK

— SafeHorizon (@SafeHorizon) June 22, 2022
Huth claimed Cosby took her to a room in the mansion, began touching her, and forced her to perform sex acts. In court, she said she kept her eyes closed because she was so upset by what was happening.
The jury awarded Huth $500,000 in compensatory damages in a 9-to-3 vote. The panel decided not to award punitive damages.
Andrew Wyatt, Cosby's spokesperson, said the small award was actually a good thing because the plaintiff originally sought millions. Despite the surprising size of the victory, the rep vowed the ex-actor would appeal the verdict. Jennifer Bonjean, an attorney who worked for the defense, was happy the jury decided against punitive damages, calling it a "significant win."
The jury's decision is another black mark on the reputation of a once-beloved TV dad. Sadly, the former head of the Huxtable family used his celebrity status to commit sick crimes. The fallen comedian continues to maintain his innocence.
~Here's to Our Liberty!
Copyright 2022, LibertySons.org