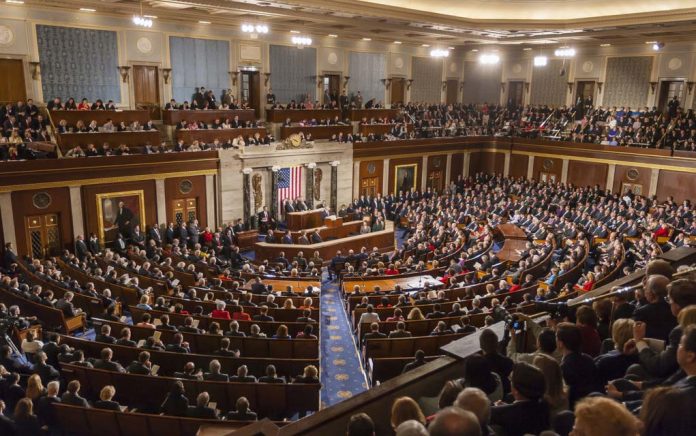 (LibertySons.org) – President Joe Biden recently delivered his State of the Union address during a special joint session of Congress. The commander-in-chief touched on several topics throughout his 73-minute speech, such as healthcare and tax increases on the wealthy. However, Biden left one important subject out by not talking about Iran. The president's failure to mention the Middle Eastern country prompted a bipartisan group of lawmakers to introduce a new bill.
On February 8, the bipartisan group, composed of several legislators, presented the measure (H.Res. 100), garnishing support from 166 cosponsors, to officially voice support for the people of Iran and those protesting against the country's government as they call to have its leaders held accountable for violating human rights.
Pleased to be joined by @BradSherman & 164 bipartisan colleagues in introducing H. Res. 100 – supporting the Iranian people's desire for a democratic, secular, & non-nuclear Republic of Iran & condemning violations of human rights & state-sponsored terrorism by the Iranian Govt. pic.twitter.com/2WbJj0qN9J

— Tom McClintock (@RepMcClintock) February 8, 2023
Representative Tom McClintock (R-CA) introduced the bill during a press conference mentioning that Democrats and Republicans don't agree on much but that they do in this case. McClintock said the new bill added the voice of American politicians to the call for "liberty and justice in Iran." Representative Sheila Jackson (D-TX) presented a similar message, stating both parties agreed the country should be free.
#LIVE: Congressional Press Briefing | Supporting a Secular, Democratic, Non-Nuclear Republic of Iran#IranRevolution #IranProtestshttps://t.co/1Ulkn36kif

— OIAC: Organization of Iranian American Communities (@OrgIAC) February 8, 2023
H.Res. 100 calls on US allies to cut ties with the regime and hold its government accountable for its malicious actions, including but not limited to human rights violations. The resolution also recognizes the effort by the Iranian people to defend their rights and establish a "democratic, secular, and nonnuclear Republic of Iran" by rejecting "religious tyranny" and "monarchic dictatorship."
Protests have flooded the cities and provinces of Iran after authorities, known as the "morality police," took a woman into custody and beat her to the point of death. Her crime was allegedly wearing her hijab, a head covering mandatory for Iranian women to wear, the wrong way. Over 300 cities spanning all of the country's 31 provinces have all seen the protests, many of which the demonstrators were chanting for the downfall of the current regime.
~Here's to Our Liberty!
Copyright 2023, LibertySons.org