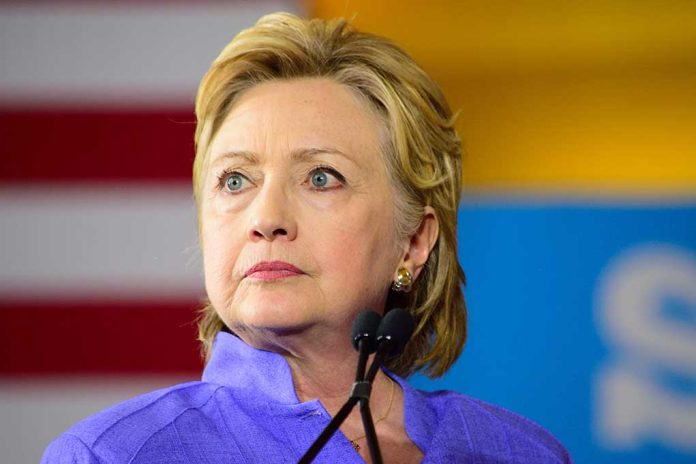 (LibertySons.org) – Hillary and Chelsea Clinton were the guest stars on the season five premiere of "Carpool Karaoke: The Series." The show aired on Apple TV+ on December 9 and also featured comedian Amber Ruffin and actress and singer Vanessa Williams. The women sang a couple of songs, but the Clintons' performance of "I Will Survive" received the most reviews. And they weren't very complimentary.
Hillary and Chelsea Clinton roasted for 'Carpool Karaoke' clip: 'Next level cringe' https://t.co/V226o8Q4v0 #FoxNews
.@daitojimari

— Manami Ichi (@Manaming1) December 11, 2022
The episode began with Ruffin and the Clintons. They sang "Roar" by Katy Perry before Williams joined them for the much-talked-about rendition of the 1970s Gloria Gaynor hit.
The responses on Twitter to the off-key and often tone-deaf performance made it clear the former presidential candidate should not make singing her next career move. The Columbia Bugle boiled its reaction down to three words.
Welcome to Hell https://t.co/nwEyMaDVYk

— The Columbia Bugle 🇺🇸 (@ColumbiaBugle) December 9, 2022
Rita Panahi equated performance to terrorism. Another Twitter user, The Jorster, called it an audible hate crime.
But the former first lady made it clear she wasn't taking herself too seriously. During the show, she even remarked that her voice wasn't that great. She related a story about how she used to try to soothe her daughter to sleep with a song, but the child would ask her to stop. On Twitter, she shared the episode, poking fun at herself. She called her singing "enthusiastically shouting along."
~Here's to Our Liberty!
Copyright 2022, LibertySons.org