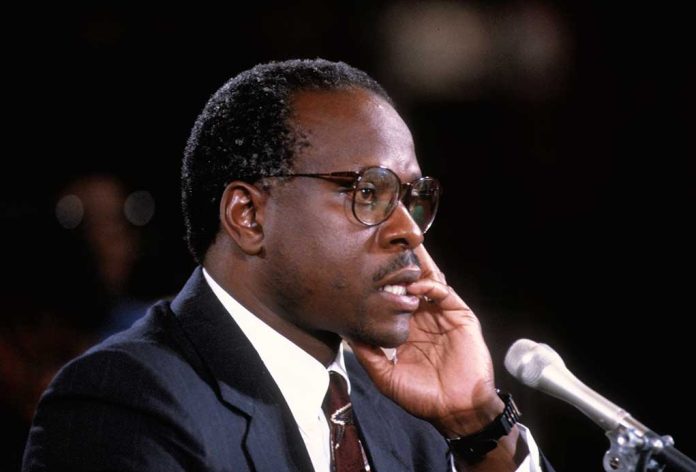 Clarence Thomas WIFE Discovery Rocks Media – They Found Something!
(LibertySons.org) – The Washington Post recently reported emails from Virginia (Ginni) Thomas, the wife of US Supreme Court Justice Clarence Thomas, put pressure on Republican lawmakers in Arizona to overturn the 2020 general election result. She urged members to choose new electors who would allow Donald Trump to remain in office. Thomas pushed the idea that fraud was rampant in voting, and therefore they had to fix it.
The Allegations
The Washington Post stated Thomas sent emails to state Representatives Russell Bowers and Shawnna Bolick days after Arizona certified Joe Biden as the presidential winner. The outlet claims that in these communications, Thomas told lawmakers to "stand strong" against any pressure. She specifically mentioned they should rebuke anyone within the political field or media who may try to berate them for attempting to object to the election results.
Thomas also made a point of stressing that it was their sole responsibility to decide who would act as electors. She encouraged them to use this duty to oppose the allegedly fraudulent outcome.
The media outlet reported the communications suggest Thomas completely backed former President Donald Trump and was vehement about him staying in office. They also allege her written words are proof she was demanding substituting the will of legislatures over the voting will of the people.
The outlet reported Thomas used an online platform to send the emails, making it easy to do a mass send to elected officials.
Additional Emails
The article also drew an association between Thomas and emails sent to the representatives right before the electoral college convened. In that communication was a plea to choose electors carefully. There was also a video attachment, which broadcasted the message that lawmakers must not cave and should do what is right, implying that meant to overturn Biden's win.
The Impact
Because of her connections, Thomas also put her husband in jeopardy by participating in the attempt to coerce lawmakers. Justice Thomas already faced some concerns over his political leanings impacting his ability to remain neutral when hearing cases related to the election. With his wife's action, those concerns amplified, with some people wondering if the justice should recuse himself from future cases on the matter.
The Washington Post reached out to Ginni Thomas and her husband, but neither provided a comment about the allegations.
Seeing the stir her actions caused, could it be that Ginni Thomas went too far with her attempts to ensure Trump stayed in the White House?
~Here's to Our Liberty!
Copyright 2022, LibertySons.org