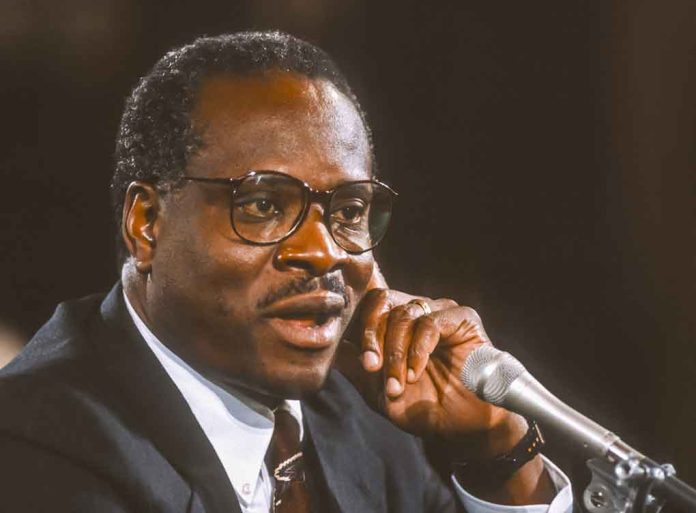 (LibertySons.org) – Supreme Court Justice Clarence Thomas has once again found himself at the center of controversy thanks to the recent publication of a book alleging that he and his wife accepted luxurious trips from a GOP donor. A new tome also claimed Thomas' fellow justices criticized his wife, Ginni Thomas, due to her political schemes.
Joan Biskupic, a Senior Supreme Court Analyst at CNN, recently released a book about the US Supreme Court justice's conservative shift and the resulting "historic consequences" that ensued. Biskupic also detailed how the other justices serving on the high court's bench criticized Mrs. Thomas while offering their colleague their loyalty.
Clarence Thomas' Wife Criticized by Fellow Justices Over 'Schemes': Book https://t.co/qOyKs3oDxJ

— George Leon (@GeorgeL07790928) April 5, 2023
The conservative justice's wife has been the center of scrutiny for months after it was revealed that she actively attempted to convince Mark Meadows, who at the time was the White House Chief of Staff, to continue trying to overturn Biden's win in the 2020 election.
Biskupic's book discussed some of those claims, adding that Mrs. Thomas' devotion to overturning the election results and contacting Trump's legal team raises concerns over Justice Thomas' ethics.
For example, Biskupic noted in her book that the conservative justice refused to "recuse himself" when it came to cases relating to the 2020 presidential election and the investigation into the January 6, 2021 riot in which supporters of the former president stormed the Capitol. Thomas' decision to not remove himself from the equation prompted criticism from top Democrats such as then-House Speaker Nancy Pelosi (D-CA), Senate Majority Leader Chuck Schumer (D-NY), and dozens of others.
Biskupic's book also reported that the other justices didn't appear to judge Thomas despite his wife's apparent efforts to have the 2020 election overturned. However, they did criticize his wife.
Additionally, Biskupic explained that the Supreme Court doesn't have a process in which the other justices review any recusal decisions or lack thereof. Instead, "each justice" exercises the sole authority to decide whether or not to recuse from a case due to a potential conflict or the appearance of one.
~Here's to Our Liberty!
Copyright 2023, LibertySons.org