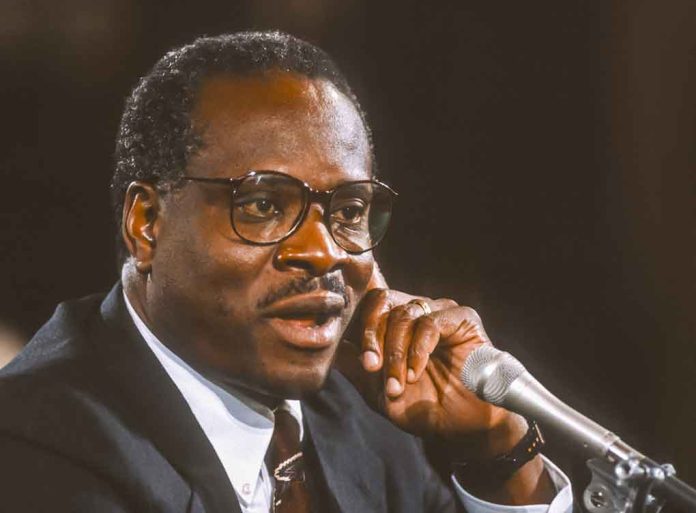 Clarence Thomas Says The End Might Be Near
(LibertySons.org) – US Supreme Court Justice Clarence Thomas spoke at the Old Parkland Conference in Dallas, Texas, on May 13. He talked to a Black conservative audience about the recent document leak from SCOTUS during his appearance. Thomas proposed that it might be difficult for long-standing institutions in the United States to remain if people keep "undermining them."
The leak of a draft opinion regarding abortion has turned the Supreme Court into a place "where you look over your shoulder," Justice Clarence Thomas said Friday night, and it may have irreparably sundered trust at the institution.https://t.co/8LDOkr6ByG

— The Washington Post (@washingtonpost) May 14, 2022
Thomas called the breach "tremendously bad" and said ruining historic and vital establishments, such as the Supreme Court, will put the country at risk. He noted the outlook is pretty horrible if America loses trust in its fundamental institutions.
The justice remarked that he never thought it would be possible for such a leak to happen. In fact, he said nobody would have believed it before it occurred because such an act was beyond what anyone imagined.
Thomas explained the breach erodes the Supreme Court. He also noted the leak changed the climate within the court and among the sitting justices. In Thomas' opinion, the breach was tantamount to an affair. He cautioned that the harm done may be irreparable.
Do you agree with Thomas' assessment of the impact on the Supreme Court? If there is irreparable harm, will the Supreme Court survive, and what happens if it doesn't?
~Here's to Our Liberty!
Copyright 2022, LibertySons.org