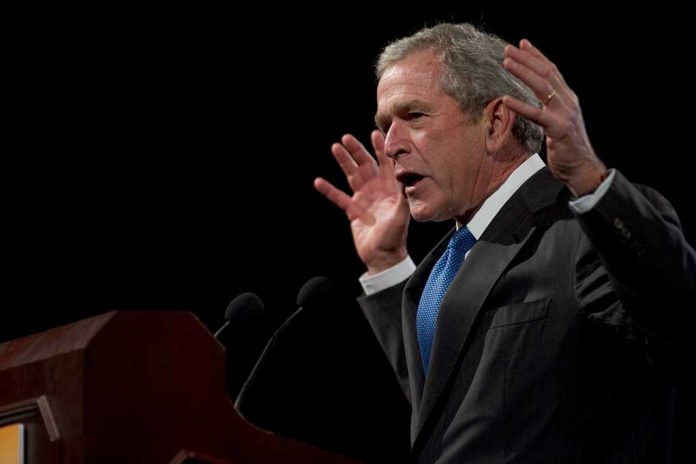 (LibertySons.org) – George W. Bush served as the nation's 43rd President. His tenure as commander-in-chief was highly controversial among many Americans as he plunged the US into a war with Iraq. At the time, he was able to keep the American people largely on his side due to concerns regarding national security in the aftermath of the infamous attacks of September 11, 2001. However, two decades later, two CIA insiders claim Bush misled the public.
Revealing the Truth
March 20 marked the 20th anniversary of the Iraq invasion. Prior to that milestone, Business Insider spoke with two former CIA agents. The pair, who have more than four decades of service between the two of them, gave their firsthand accounts on the matter and confirmed that the Bush administration intentionally misled the public about the justification for the war. Additionally, the whistleblowers claim the CIA has documentary evidence proving that Bush and his administration attempted to manipulate information from US intelligence to draw a connection between the terror organization Al-Qaeda and then-President of Iraq, Saddam Hussein.
One of the alleged connections between the two parties was an administration claim detailing a supposed meeting between officials working on behalf of Iraqi intelligence and Mohamed Atta, one of the main hijackers from the 9/11 attacks. However, the CIA insiders claim that no one within the US government had evidence to support the premise that the meeting ever took place. Nevertheless, then-Vice President Dick Cheney said officials had "pretty well confirmed" that the meeting took place during an interview with NBC's "Meet the Press."
Firsthand Account
The CIA insiders, known only as "Bob" and "Alice" to protect their true identities, detailed how the Bush administration lied to the American people. Alice held nothing back during the interview with Business Insider, saying everyone in DC was "too polite" to call the 43rd President a liar. She said that's exactly what he did, though.
Continuing, Alice explained that Bush would present the intelligence community's judgments as fact, even if there was a high level of uncertainty behind them. The former CIA official used the Prague meeting between Iraqi intelligence officials and Atta as an example, noting there was a "great deal of doubt about it." Alice also stated that Bush was trying to sell the Iraq War to the public, claiming he had already made his mind up about launching the invasion, adding that no amount of intelligence would change that.
Bob echoed that sentiment, adding that while the Bush administration was misrepresenting facts, the CIA's analysts on Iraq declared that Al-Qaeda and Hussein were opposed to each other's goals. He explained that while the Iraqi President knew of the terror group's existence in his country, there was no working relationship between the two parties.
~Here's to Our Liberty!
Copyright 2023, LibertySons.org