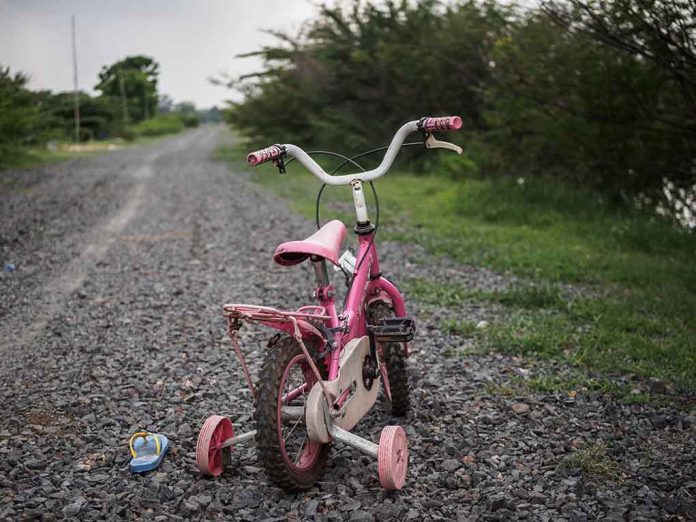 (LibertySons.org) – A missing child is always a priority case for law enforcement. However, the story of Summer Wells has captured the attention of internet sleuths, too, who recently uncovered disturbing evidence that might help locate the little girl.
Five-year-old Summer Wells went missing on June 15 from her family's home in Tennessee. Her mother, Candus Bly, says the child was outside with her and her grandmother helping to plant flowers before her disappearance. She last saw Summer as the little one entered the house to play in the basement.
Both Candus Bly and Summer's father, Don Wells, claim someone kidnapped her.
Law enforcement agencies immediately began searching for the girl and issued an Amber Alert. But, unfortunately, they failed to uncover evidence leading them to her location.
TikTok users uncovered a video posted by Bly on the platform just before the child went missing shortly afterward. In it, Summer dances in front of a barrel with the words "For Sale" painted on it. People speculate this may be a clue that she is in the hands of traffickers.
Summer Wells sleuths spot mom posted video of girl, 5, dancing in front of 'for sale' sign the day before she vanished https://t.co/xnp36q6yLR

— Red Roads (@red_roads_media) December 7, 2021
In a NewsNation interview on November 16, Wells spoke on Bly's behalf, as she refused to talk to the interviewer directly. Wells said Candace would never hurt Summer, and if there were an accident, she would have called for help rather than covering it up. He called Candace a good parent who suffered from an inability to judge the character of her friends.
This truly terrifying tale of a missing child remains unsolved with no leads. Could the little girl be a victim of human trafficking — and do her parents know more than they are saying?
~Here's to Our Liberty!
Copyright 2021, LibertySons.org