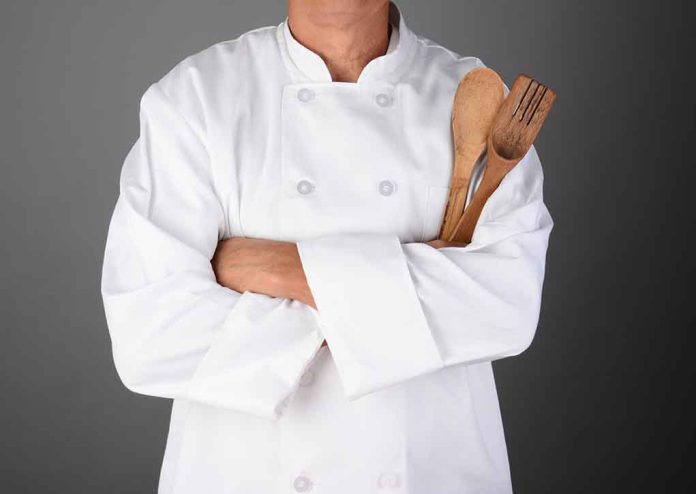 Chef Accused of Killing Wife and Exchanging Gunfire With Police
(LibertySons.org) – A sad scene unfolded in New Mexico on September 18 at the residence of Robert and Kimberly Yacone, the owners of local restaurant Forghedaboudit Southwest Italian. Frantic calls to 911 alerted authorities that Robert Yacone shot his wife. Officers found the woman deceased upon arrival. When the suspected killer threatened their lives next, the responders felt they had no choice but to shoot.
New Mexico Chef Accused of Killing Wife and Co-Owner of Award-Winning Restaurant Before Exchanging Gunfire with Deputieshttps://t.co/akQCE8O1Yj

— Law & Crime (@lawcrimenews) September 21, 2022
Sheriff Kim Stewart held a press conference on September 20. She explained the suspect's 21-year-old, Nick Yacone, made the initial 911 call. The Yacones' 17-year-old, Trent Yacone, was also home at the time of the incident. He ran to a neighbor's house, who called 911 as well. Robert Yacone's daughter said the suspect called her and confessed his crime, claiming her stepmother was cheating on him.
When police arrived, Robert Yacone threatened them, saying he had a gun while rushing forward, forcing officers to shoot their weapons. Law & Crime reported the suspect and police exchanged fire. The alleged gunman sustained wounds in the incident, but no deputies suffered injuries.
The Dona Ana County Sheriff's Department said in a Facebook post that the situation was the result of a "long standing domestic dispute." Records show Kimberly filed for divorce in February and had sought four restraining orders against her husband.
Robert Yacone has a criminal history showing a tendency toward violence. In 2020, he had a domestic battery arrest, but the case was dropped. The defendant served probation in 2018 for a road rage incident, during which he pointed a firearm at another person, and he pleaded no contest to child abuse charges in 2014.
The perpetrator remains under guard at the hospital, recovering from his wounds. He faces charges of murder and firearms violations.
~Here's to Our Liberty!
Copyright 2022, LibertySons.org