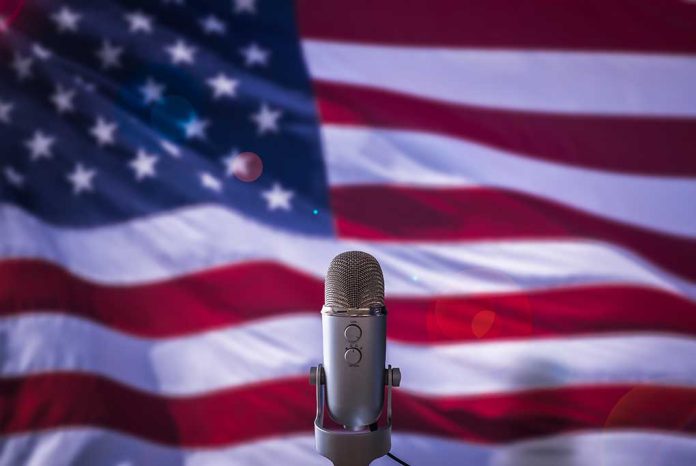 (LibertySons.org) – After NBC reporter Kelli Stavast mistook a vulgar chant about the president for the phrase "Let's go, Brandon," it went viral. The expression can be found almost everywhere, including on t-shirts and in songs. That's ruffling a few political feathers.
Capitalizing on the extreme popularity of "Let's go, Brandon," rapper Bryson Gray wrote a song that quickly shot to the top of the iTunes charts. The lyric also became incredibly popular on YouTube — until the service labeled it medical misinformation and pulled it from the platform.
Gray announced the song's ban on Twitter, calling it crazy. On October 26, he told Blaze TV's Glenn Beck that he feels the bans prove free speech isn't accessible to all Americans.
Censored 'Let's Go Brandon' Rapper: 'Only One Side Has Free Speech' https://t.co/aLpJcuqzj0 pic.twitter.com/Qm51Fec0FN

— Daily Wire (@realDailyWire) October 27, 2021
Bryson said he'd received no explanation from YouTube for its decision, and he's outraged that the platform continues to allow other more vulgar songs to remain. The conservative Christian rapper suggests the platform only banned his music because of its political message.
The rapper says his recent song removal proves big tech indirectly controls the narrative in many online spaces, restricting free speech to silence those who disagree with them. According to Gray, only one side has the freedom to say whatever they want anymore — and it isn't Conservatives or Christians.
Still, Bryson managed to come out on top despite the removal. His song remains in the lead at iTunes, surpassing Adele's highly anticipated new single.
~Here's to Our Liberty!
Copyright 2021, LibertySons.org