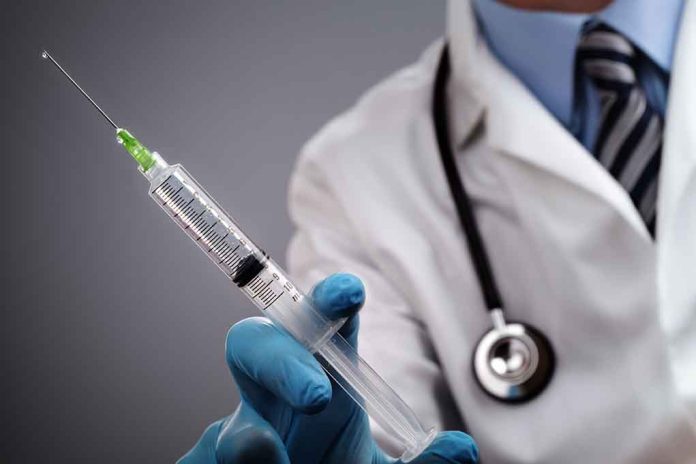 (LibertySons.org) – During the COVID-19 pandemic, health officials had to learn how to deal with, treat, and prevent coronavirus on the fly. CDC Officials are now considering changing the recommendations for vaccines due to health concerns.
The experts are moving toward amending their previous assertions to account for information they apparently did not have earlier in their rollout and campaign to administer vaccinations for COVID-19 across the nation. On February 3, CDC official, Dr. Sara Oliver, said the agency is considering altering the recommended timeline for administering two COVID-19 vaccinations. She noted concern about heart inflammation after the second shot with brands using mRNA technology.
CDC Makes Major Admission About Rushed Vaccine Timeline and Heart Inflammation https://t.co/obz19NGe0T

— Townhall.com (@townhallcom) February 7, 2022
The suggested changes were brought up during an Advisory Committee on Immunization Practices (ACIP) meeting and addressed the waiting period between the first and second shots. The current interval is three weeks between shots for Pfizer and four weeks for Moderna.
Dr. Oliver spoke about the risk of myocarditis, which is a rare condition that can occur with mRNA inoculations. She recommended changing the interval to eight weeks for both because occurrences of the heart inflammation were at the lowest with this timeline. She also said studies show that vaccines are more effective at this interval.
While this is still in discussion, the CDC could change its recommendation for some groups while maintaining the current timeline for others. Myocarditis occurs most often in young males, so those in this higher-risk group would likely follow the extended timeline. The revisions will impact only the Moderna and Pfizer vaccinations.
~Here's to Our Liberty!
Copyright 2022, LibertySons.org