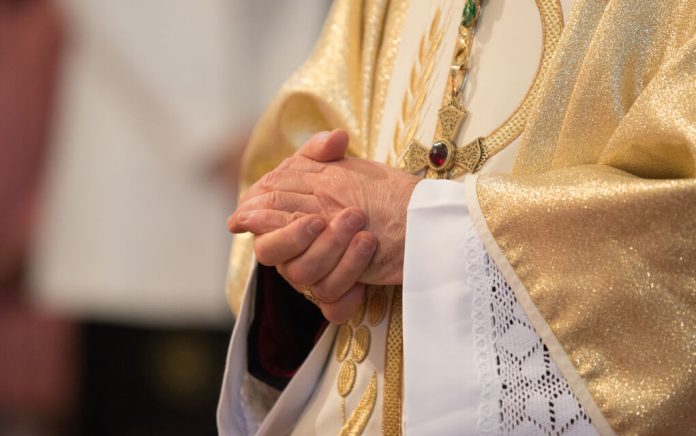 Catholic Priest Deletes Tweet – People Were Furious!
(LibertySons.org) – Father James Martin tweeted his respects to the late Archbishop Rembert Weakland on August 22. While he recognized the scandal that led to the holy man's forced retirement, he failed to mention the even bigger issue — Weakland's part in covering up child abuse among priests. Even worse, he attempted to diffuse the bishop's actions by pointing the finger at everyone else. The backlash was quick, causing the priest to apologize and remove the posts.
Background on Weakland
Weakland, who died on August 22, had to retire in 2002 after officials uncovered that he'd paid a "former male lover" $450,000 to keep quiet about their affair. Then, in 2009, the Milwaukee Journal Sentinel broke the story that the bishop previously destroyed records of abuse in the church, allowing offending priests to continue preaching to congregations unchecked.
Weakland admitted in a deposition in 1993 that he had shredded the documents. In his 2009 autobiography, "A Pilgrim in a Pilgrim Church: Memoirs of a Catholic Archbishop," the leader spoke about the scandal, saying he knew sex with children was immoral but wasn't aware it was illegal.
Martin's Misstep
Father Martin is known for his liberal viewpoints, which often clash with the official stance of the church on issues including transgenderism and homosexuality. His complete lack of recognition over how problematic Westland was turned Catholics of all backgrounds against him.
Martin originally posted a tribute to the archbishop on Twitter. He called the man a friend and scholar, saying he was sad about his loss, and wished him peace in the afterlife.
Commenters quickly pointed out how he glossed over the abuse coverup scandal. The priest quipped back, asking them if their friends had ever sinned. The dismissive response that essentially equated what Weakland did to everyday misdeeds or mistakes led to more blowback.
Due to the uproar, Martin issued an apology on August 24 and removed the offending posts. He explained he was sorry for ignoring Weakland's part in covering up sexual abuse by priests and noted he condemned what the archbishop did. The father ended his comments with, "And may he rest in peace."
One commenter, a supporter of Martin's, thanked him for his apology, which she categorized as sincere. The responder also pointed out that saying, "I'm sorry" may not be enough. His posts damaged his trustworthiness as an advocate and also dismissed the affair, which was problematic in many ways.
Could others feel the same? Will the Twitter post cost Martin support from other liberal Catholics, or will they dismiss the decision as a mistake?
~Here's to Our Liberty!
Copyright 2022, LibertySons.org