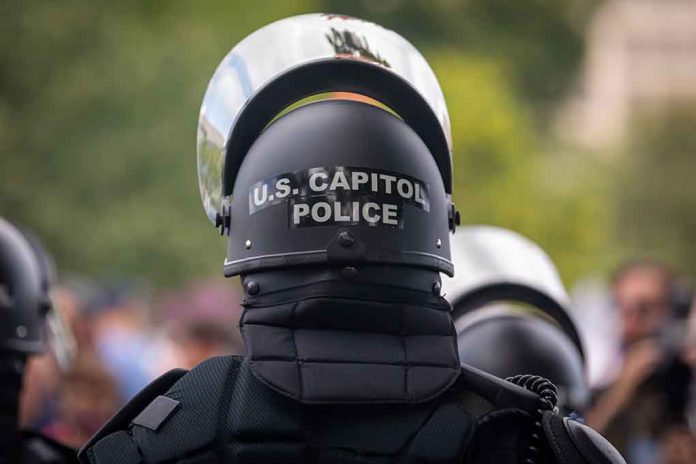 (LibertySons.org) – The US Capitol Police (USCP) mission statement says the organization has a duty to protect members, visitors, employees, and the facilities of Congress so that the government branch can meet its legislative and constitutional duties safely and securely. With the agency's most recent budget request, a few prominent Republicans are accusing the USCP of attempting a power grab, becoming a "nationwide" protective agency.
On May 15, Chief J. Thomas Manger asked Congress to increase the agency's budget to more than $840 million to allow the USCP to expand remote operations in regional field offices to help protect Congress members and their families, staff, and visitors in their home districts. The need for such protections became even more evident for some in the wake of the recent attack on Gerrold Connally's (D-VA) office in Fairfax, Virginia.
A day after the attack on Gerald E. Connolly's staffers, the Capitol Police chief said he wants more field offices and money for local police to protect members. https://t.co/eu5Q8Y4mA9

— The Washington Post (@washingtonpost) May 17, 2023
The USCP has already opened two satellite offices in 2021 in Tampa, Florida, and San Francisco, California, but the agency is seeking to add offices in the Northeast, Southwest, and Midwest regions of the United States. Yet, Republicans in Florida have asked Governor Ron DeSantis to oust the USCP from the state. The Hillsborough GOP cited the agency's presence in the state as "a global statement" insinuating Florida's law enforcement agencies were "incompetent or incapable."
Manager addressed the concern with Rep. Laurel Lee (R-FL), letting her know the Tampa office consists of two agents and a lawyer who coordinate closely with local law enforcement agencies to perform their protective duties, investigating threats to Congress members.
The need for protection outside DC has increased since the 2011 Rep. Gabrielle Giffords (D-AZ) shooting in Tucson, Arizona. In 2017, a shooter critically wounded Rep. Steve Scalise (R-LA) in Alexandria, Virginia. Former Rep. Lee Zeldin (R-NY) suffered an attack near Rochester, New York, in 2022.
Another recent incident illustrating Manger's point includes the horrific attack on Paul Pelosi, former House Speaker Nancy Pelosi's (D-CA) husband, in October 2022 at their San Francisco home. More recently, Rep. Angie Craig (D-MN) escaped serious injury after she threw hot coffee at her attacker in the elevator of her DC apartment in February.
Manger told Congress that threat assessment cases had risen to exceed 9600 in 2021 from around 4,000 in 2017. Last year, the USCP handled about 7500 investigations staffed with only 70% of the officers the agency needs. The chief is seeking to hire more agents, continue upgrading technology locally in DC, and add three field offices.
~Here's to Our Liberty!
Copyright 2023, LibertySons.org