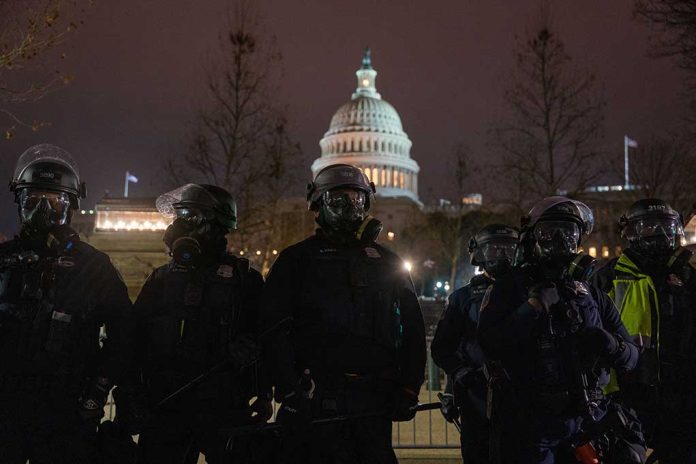 (LibertySons.org) – Suicide is a situation that impacts countless numbers of people. The suicide rate of law enforcement officers is much higher than in other professions.
On August 2, 2021, the DC Metropolitan Police Department (MPD) announced a fourth officer with ties to the January 6 Capitol incident took his own life.
This is getting weird, are these people being suicided?

BREAKING: FOURTH DC Metro Police Officer Who Responded to January 6 Capitol Protest Dies by Suicide https://t.co/HTpQ9U0pm8 via @gatewaypundit

— Ultra Super MAGA..Princess Warrior 🇺🇸 (@fishing_tx) August 3, 2021
Officer Kyle DeFreytag died on July 10. He helped uphold a Washington DC curfew after the events on January 6. He was not there during the riot but came after the clearing of the building. The officer was a 5-year veteran of the force.
The other announcement was for Officer Gunther Hashida. He died on July 29 and was part of the emergency response team that helped secure the US Capitol Building after the breach.
Neither DeFreytag's nor Hashida's families blame the January 6 events contributing to their loved ones' deaths.
The story is not the same for the other two officers whose families do feel the Capitol breach directly led to their loved ones' suicides.
Officer Jeffrey Smith died on January 15. He was a 12-year veteran inside the building during the Capitol Hill riot and had direct contact with people breaking into the building. Officer Howard Liebengood took his life just days after the incident. He was a 16-year veteran.
These officers were already under duress, involving long working hours and tremendous stress, from months of rioting in the city. There is a need for increased mental health services within the profession, especially for those on the MPD, before more officers' lives are lost.
~Here's to Our Liberty!
Copyright 2021, LibertySons.org