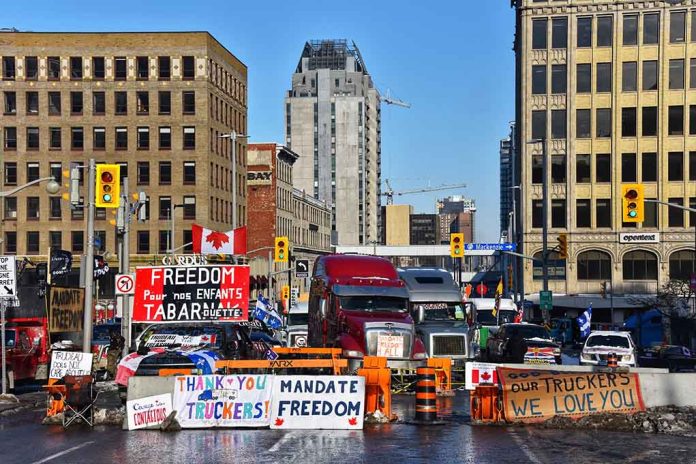 (LibertySons.org) – The Freedom Convoy is a group led by truckers protesting the vaccine mandates in Canada. They continue to occupy downtown Ottawa after weeks of demonstrations. Local officials are now looking for ways to end the freedom protests in their city.
Initially, the plan was to simply tow the trucks away. But on February 7, Ottawa city manager Steve Kanellakos admitted to reporters that tow truck companies had refused to remove trucks from the Freedom Convoy, siding with the protesters over the government. The companies typically contract with the city to handle such jobs, but they refused to move against the Freedom Convoy — the trucking industry provides these towing companies with a large portion of their work.
Tow truck companies, contracted by the City of Ottawa, are refusing all of the requests to take heavy vehicles associated with the "Freedom Convoy" from the downtown area. https://t.co/HZ00FVFtxU

— Breitbart News (@BreitbartNews) February 9, 2022
Kanellakos said the companies are still handling light-duty hauling. Nonetheless, they do not want to risk their businesses' livelihood by taking any towing jobs related to moving large trucks from the downtown area.
Mayor Jim Watson tried to seek resources from other cities in Ontario but is facing similar issues. Police Deputy Chief Steve Bell said officers are trying to find alternative solutions to remove the protestors. He said he would not allow the refusal from the drivers to prevent his department from doing its job.
City officials have said they are reviewing contracts to see if there is any action they can take against the tow truck companies. The frustrated city has taken to arresting citizens who support the protesters, with the Canadian government even threatening to investigate Americans who've sent money in support of the Freedom Convoy's mission. Despite the threats and the actions taken against other citizens for supporting these protests, the towing companies remained steadfast.
With Alaska forming a convoy of their own to join the Canadian Freedom Convoy and a new, fully American trucker convoy taking shape and heading toward D.C., the truckers who keep our food on the shelves and our economy moving are making their voices heard. And politicians would do well to listen.
~Here's to Our Liberty!
Copyright 2022, LibertySons.org