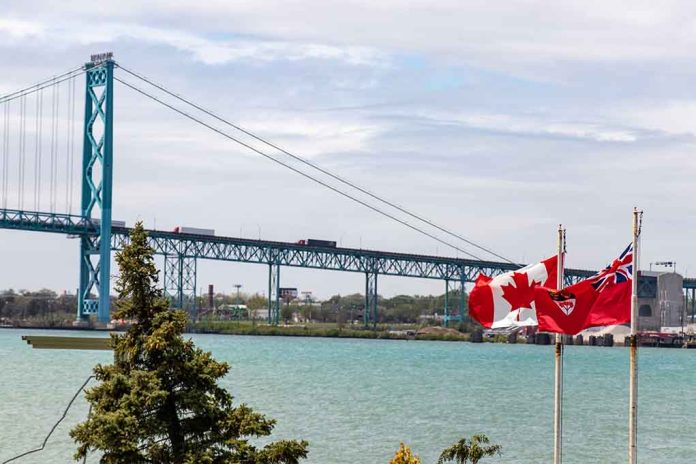 (LibertySons.org) – The Freedom Convoy made camp in Ottawa, Canada, weeks ago and refuses to leave until the country lifts its vaccine mandates. The protests have spread to other areas in Canada and inspired similar movements in other countries. Nonetheless, the Canadian government is cracking down on the group in one particular location.
A Blocked Route
The convoy blocked passage across Ambassador Bridge, a major transportation link between the US and Canada in Detroit, Michigan. They shut it down for almost a week before police issued warnings they would remove the trucks on February 12.
Officers gave drivers leaflets saying the removal would occur at midnight, but the deadline came and went. Truckers didn't move, and police were not there.
Then, during Super Bowl LVI on February 13, law enforcement officials began arresting people. They took at least 24 people into custody, towed seven vehicles, seized an additional five vehicles, and cleared protestors. They reopened the bridge late that night.
Not a Deterrence
While Canadian officials may have stopped the group at the bridge, the overall movement continues. The convoy maintains its strong presence in Ottawa. The downtown area is at a standstill, and officials scramble to find solutions.
Spreading Worldwide
The Canadian convoy is inspiring others. In the US, Convoy to Save America protested at the Peace Bridge in Buffalo, New York, on February 12 and 13. The People's Convoy is working on plans to move across the country from California to Washington DC to protest mandates.
A French Freedom Convoy protested in Paris on February 12 and 13 and moved into Brussels to set up at the European Union headquarters on February 14. Demonstrators in the Netherlands were at The Hague on February 12, and nightclubs remained open to show their support.
There's even support in the land down under. In New Zealand, protestors gathered in Wellington outside of Parliament.
Most other countries have enacted bans on freedom convoys or protests. Brussels tried to deter the group heading its way by preventing them from entering the capital city. In France, increased police presence began attempting to prevent demonstrators from blocking roadways, and they vowed to arrest anyone breaking protest laws.
Despite the opposition from the government to these convoys, they are growing and thriving in many places. The people of the world are sending a clear message that they are tired of the COVID restrictions, and that they will no longer stand by and allow lawmakers to control their lives.
~Here's to Our Liberty!
Copyright 2022, LibertySons.org