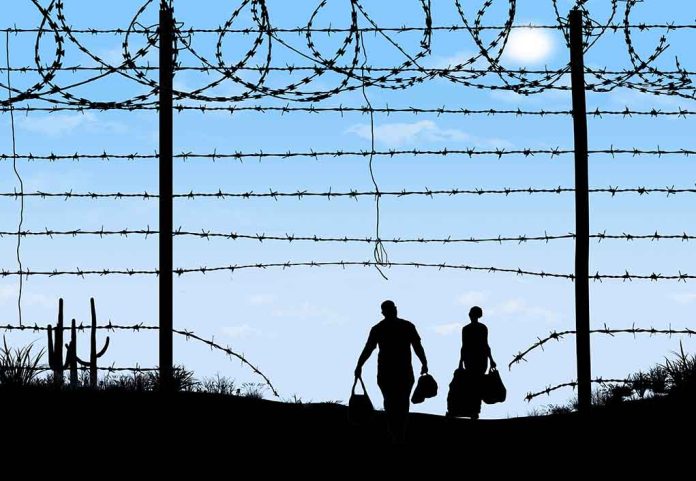 (LibertySons.org) – On January 18, a soldier in Laredo was approaching a suspect's vehicle when the driver began accelerating in his direction, reportedly aiming to hit the soldier. Another member of the Texas National Guard opened fire on the human smugglers who were stopped attempting to sneak across the border.
The driver, a 17-year-old US citizen, managed to flee the scene, but Border Patrol agents apprehended him a short time later. The clandestine vehicle contained unsurprising cargo: six migrants who sought to enter the US illegally.
According to the U.S. Border Patrol (USBP), close to 2 million illegal immigrants crossed the southern border in 2021. President Joe Biden's administration did very little to stop them and almost seemed to invite them in at various points. The migrant crisis continues into 2022, which is now forcing the Texas National Guard to work around the clock to preserve security. Unfortunately, this recent incident painted the hazardous region in a particularly troubling light.
Coming To America! Texas National Guard Shoots At Illegal Alien Smuggler Who Drove At Them https://t.co/VEK7m9sz0B

— Brian Craig 🇺🇸 (@BrianCraigShow) January 19, 2022
The National Guard's presence on the border is related to Texas Governor Greg Abbott's Operation Lone Star. Its goal is to use law enforcement agents and the Texas National Guard in areas with high levels of illegal migrant trafficking, attempting to make up for the federal government's shortcomings on solving the problem. Abbott wanted to specifically target criminals trafficking drugs and other undesirables, which certainly seems to be the outcome of this particular case.
~Here's to Our Liberty!
Copyright 2022, LibertySons.org