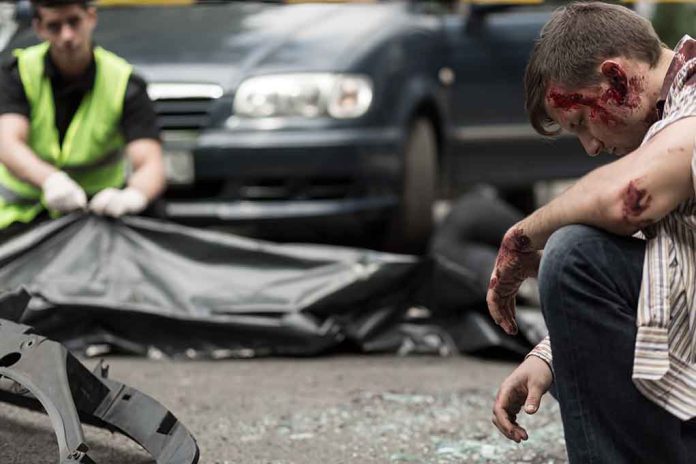 (LibertySons.org) – The crisis at the southern border is about much more than politics. Human lives are at risk now because of the failure of the Biden administration to gain control over migrants. A recent accident in Mexico highlights the horror of people trying to get into the country by any means possible.
In southern Mexico, a truck hauling about 200 migrants crashed into a steel pedestrian bridge, tipping it over and tossing occupants into a pile within the trailer. By the end of the day, 53 of them were dead, and about 54 had suffered injuries.
53 dead after truck smuggling about 200 migrants crashes in Mexico https://t.co/ic8R2owlAo

— Houston Chronicle (@HoustonChron) December 10, 2021
One person who managed to escape, Celso Pacheco, said it felt like the truck was going too fast before the crash. He guessed the driver simply lost control when navigating a curve.
Many survivors had to pull themselves from out beneath rubble and those who had died to get to help. Some of those who had lived through the accident fled the scene out of fear immigration agents would seize them because most onboard were from Guatemala and Honduras.
Passengers in the truck had paid $2,500 to $3,500 each for the ride into the US. Now, those who survived the ordeal will face deportation back to their home countries.
The Mexican government is halting people walking over the border, but countless freight trucks with trailers filled with migrants trying to get to the US continue to cross unchecked. The horrendous accident on December 9 only brings to light the dangers of this practice.
~Here's to Our Liberty!
Copyright 2021, LibertySons.org