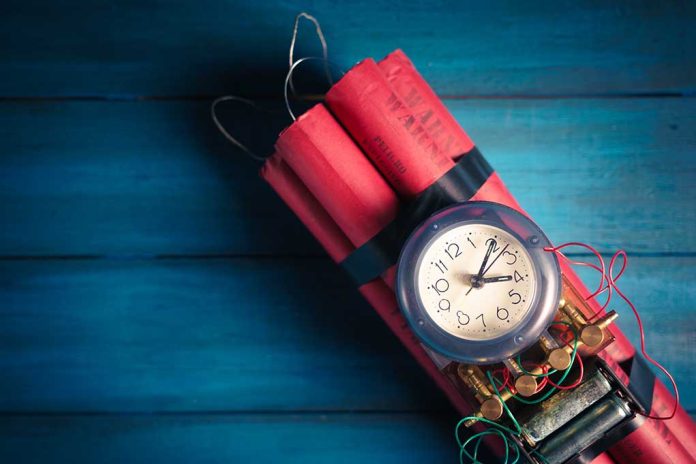 (LibertySons.org) – Fighting terrorism is a never-ending battle for US intelligence services and law enforcement agencies. Since the 9/11 attacks on the country, agencies have foiled countless attempts to recreate the horror of that day.
The latest victory in the war on terrorism was the conviction of Mark Steven Domingo on August 11. A federal jury found him guilty of providing material support to terrorists and attempting to use a weapon of mass destruction.
U.S. Army Vet Who Converted To Islam And Supported Violent Jihad Convicted In Plot To Bomb California Rally https://t.co/DNnoy5FkFZ pic.twitter.com/LcCMA3WsYX

— Daily Wire (@realDailyWire) August 12, 2021
The charges stem from an incident in 2019, at which time Domingo planned to bomb a rally for the United Patriots National Front in Bluff Park, located in Long Beach, California. The 28-year-old is a former Army private who was discharged after getting caught, labeling his grenades and bullets with the names of other soldiers. Domingo converted to Islam in 2019, which is reportedly when his subversive activities appeared to have begun.
The FBI arrested Domingo in April 2019 after he was caught through a sting operation. The former soldier bought "bombs" from undercover agents and provided some materials to make them, including 3 1/2 inch nails carefully selected because they could penetrate victims' bodies.
Domingo also spoke with undercover FBI Agent Tasha Coolidge about potential targets, such as the National Guard Armory. He told the agent he planned to die in the bombing, which he saw as revenge for attacks on mosques in New Zealand.
Law enforcement discovered Domingo's online posts, which clued them into his plans. His online activities revealed his plot to create a mass casualty event similar to the mass shooting in Las Vegas in October 2017. He also wrote that he wanted to weaken America and give back some of the terror Americans evoke in the rest of the world.
The court set sentencing for Domingo on November 1. He faces a life sentence for his crimes.
~Here's to Our Liberty!
Copyright 2021, LibertySons.org