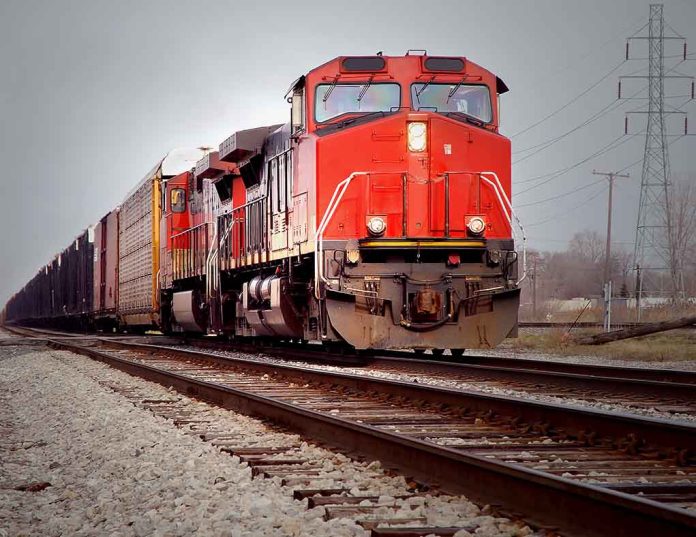 Biden-Backed Bill Passes to Avert Rail Strike
(LibertySons.org) – The railroad worker unions and companies have been holding tough negotiations for months over a contract. In September, the Biden administration stepped in to create a tentative agreement, but some of the unions refused to accept it. With the December 9 deadline coming fast, the American economy could be at risk without a solid deal. So, the Biden administration drafted legislation forcing the unions to accept the agreement, preventing them from going on strike.
House passes Biden-backed bill to avert rail strikehttps://t.co/e9Pk5FSxDhhttps://t.co/47a105Xvd8

— Amazing Adornments (@amadorn) December 1, 2022
The US House of Representatives passed the resolution on November 30 by a 290-137 vote. The move contrasts the typical Democratic support of unions and workers. President Biden felt there was no other choice because of how devastating a shutdown would be to the country. In a statement, he made it clear the Senate must pass the bill quickly to avoid the start of a strike that could cripple the US.
A strike would halt many industries, further damaging an already weak supply chain. In the current unstable economy, a shutdown would likely increase prices for consumers, according to University of California economics professor Kyle Handley, who spoke to ABC News.
Rail workers have been fighting for a better work-life balance, stating the companies have not been generous with allowing time off. The tentative agreement provides them with time off for medical appointments, a freeze on health insurance cost increases, and wage increases through 2024 of 24%. But employees who have refused to accept the offer say it isn't enough.
~Here's to Our Liberty!
Copyright 2022, LibertySons.org