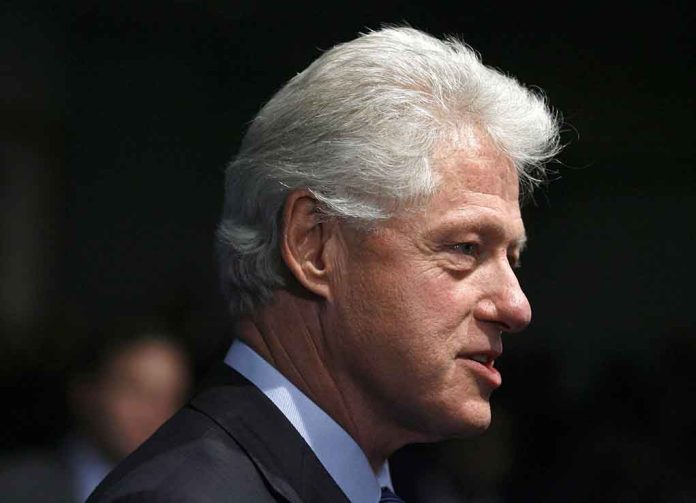 (LibertySons.org) – Couples of all ages come together on February 14 to celebrate Valentine's Day. Former President Bill Clinton took to social media to acknowledge his wife of 48 years, Hillary Clinton, calling her his "forever Valentine." But other users quickly spoiled the moment, bringing up a decades-old scandal and the former president's spotty behavior in the past.
Calling Out Clinton
The 42nd President shared a photo of him and his wife during their younger days along with his happy Valentine's Day caption. Clinton's heartfelt post quickly drew criticism and mockery from other social media users, many of them pointing to the multiple allegations against the 42nd President, claiming he was unfaithful to his wife on at least 14 occasions.
Happy Valentine's Day to my forever Valentine! pic.twitter.com/BVKdMYRcLO

— Bill Clinton (@BillClinton) February 14, 2023
One user told the former president that he knew he had more than one Valentine. Another chimed in, asking Clinton, "didn't you cheat on her like 100 times?" Someone else replying to the former president's post said he probably said that to all women.
An overwhelming amount of people poking fun at Clinton and his gushy post drew attention to his affair with Monica Lewinsky, who was a White House intern at the time. One person posted a gif of the 42nd President during his speech where he denied having any sexual relations with Lewinsky, complete with the caption "LOL forever." Another user replied to Clinton's post with a photo of him and the intern with the simple caption, "yup."
Claims Against Clinton
The affair between Lewinsky and former President Clinton reportedly lasted from 1995 to 1997, drawing national attention. She was only 22 years old when the affair began — Clinton was 48. Eventually, his extramarital relations with the intern led to the House impeaching him in 1998. However, he remained in office after the Senate failed to gather the required votes to convict him.
While the Lewinsky affair is certainly one of the best-known scandals involving Bill Clinton, it's not the only time the former president was unfaithful to the former secretary of state. In 1999, Juanita Broaddrick, who served as a volunteer on Clinton's first gubernatorial campaign, appeared on an episode of Dateline and accused her old boss of sexually assaulting her in a Little Rock, Arkansas, hotel room.
Likewise, Leslie Millwee, a former reporter, came forward in 2016, claiming Clinton had groped her on multiple occasions during his first term as the Governor of Arkansas. Millwee said the former president would come up behind her and grab her in an inappropriate manner.
Yet, the former First Lady stood by his side through all of it. Perhaps she really is his "forever Valentine."
~Here's to Our Liberty!
Copyright 2023, LibertySons.org