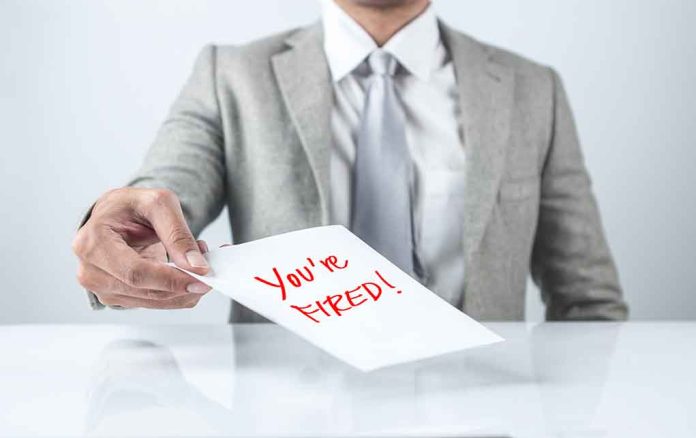 (LibertySons.org) – A controversial senior Biden administration official no longer has a job in the government. Samuel Brinton worked for the Department of Energy (DOE), but the agency said in a statement to The Daily Beast on December 12 that the individual is no longer an employee. The official's page on the DOE website is also under restricted access. The decision comes after authorities filed two felony cases against Brinton for stealing luggage at airports in Minnesota and Nevada.
About Brinton
Brinton is a 35-year-old LGBTQ activist who identifies as nonbinary. The former government employee often wears bright red lipstick and was well-known for donning stiletto heels on the job. He earned his mechanical engineering undergraduate degree at Kansas State University with a focus on nuclear engineering before transferring to the Massachusetts Institute of Technology to earn multiple graduate degrees.
Brinton was deputy assistant secretary of spent fuel and waste disposition within the Office of Nuclear Energy. The Biden administration appointed the individual to the position in June.
Brinton's Charges
The current issue stems from two incidents at airports for accusations of luggage theft. The first time was in September at the Minneapolis-St. Paul International Airport. Officials allege the former deputy assistant secretary stole a Vera Bradley suitcase estimated to be worth over $2,500. When confronted, Brinton denied the crime but later admitted to accidentally taking the item and leaving the contents in a hotel room.
The second charges were filed in Las Vegas in early December. Brinton is accused of taking another bag with an estimated value of $3,670 from the Harry Reid International Airport. Officials uncovered a video of the theft showing the former official in an easily identifiable outfit.
Brinton's Dismissal
After Brinton's hiring in February, a whistleblower wrote a letter alleging impropriety in his hiring process. The person said the DOE bypassed qualified candidates in favor of identity politics. The letter also noted more qualified individuals did not receive consideration due to social beliefs carrying more weight in the placement decision.
The DOE did react to the first report of criminal activity. Officials put Brinton on leave after the September incident but refused to comment on the details. It is unclear if the employee received pay during that time.
On November 30, Senator John Barrasso (R-WY) urged the DOE to review its security clearance methods after news of Brinton's alleged crimes came to light. On December 6, Representative Andrew Clyde (R-GA) contacted the DOE to push for the official's resignation. It took until December 12 for the agency to take action to remove the Brinton.
The suspect faces prison time and hefty fines if found guilty of the charges. Las Vegas authorities charged the former DOE employee with grand larceny, which carries up to 10 years. In Minnesota, the charge is felony theft, which could result in a maximum of five years behind bars.
~Here's to Our Liberty!
Copyright 2022, LibertySons.org