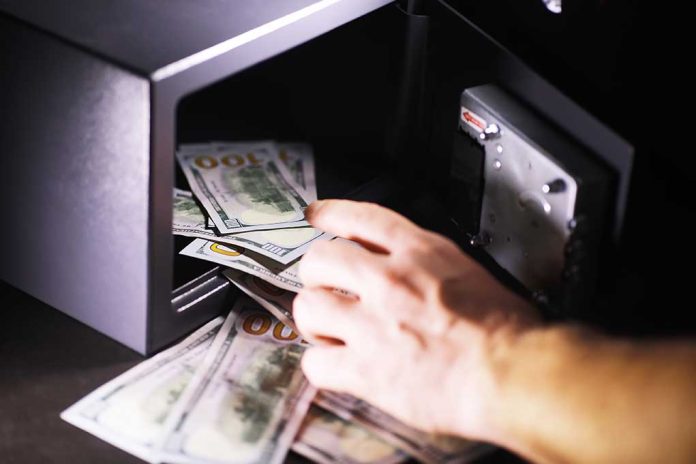 (LibertySons.org) – Republicans regained control of the House by a narrow margin in January after dealing with Democratic rule (and complacency) the last four years. As such, the GOP now controls Congressional committees, giving them the power to investigate the numerous allegations of corruption lodged against President Joe Biden and his son, Hunter Biden. Hunter's sketchy business dealings and potential payoffs to his dad are on the Republican lawmakers' radar, along with the president's mishandling of classified documents. They recently put plans into motion to start investigating the Biden family's money trail.
Representative James Comer (R-KY), the Chairman of the House Oversight Committee, hopes to uncover the truth behind donations foreign entities have funneled to the Penn Biden Center. Comer also mentioned the GOP's desire to get to the bottom of who is paying hundreds of thousands of dollars for the younger Biden's artwork.
Boom! "House GOP Will 'Trace The Money' Flowing Into Penn Biden Center, Hunter Biden Art Sales, Comer Says"
https://t.co/NgATRYgCI7

— Kevin Shipp (@Kevin_Shipp) January 24, 2023
Rep. Comer told the Washington Examiner that his committee will look at bank statements  as part of the Oversight Committee's effort to "trace the money." Continuing, Comer said the "next phase" of the probe would involve tracking down anonymous donors and finding out why they were giving so much money to the "Biden family schemes." The chairman also noted that he was fully prepared to use his power as committee chair to issue subpoenas to obtain documents and force testimony from witnesses when necessary.
Republicans are particularly concerned over the cache of classified documents found at President Biden's old office at the Penn Biden Center. The Examiner recently published an article revealing that government records showed that the center received millions of dollars in donations from China. Comer wants to know what China wants and what Biden is potentially attempting to peddle.
The Oversight Chairman touched on Biden, claiming there was nothing there. Comer said that if the president were being honest, he would "be more than willing to cooperate" with congressional oversight. As expected, the White House claims the investigations are nothing more than Republicans engaging in political stunts.
~ Here's to Our Liberty!
Copyright 2023, LibertySons.org