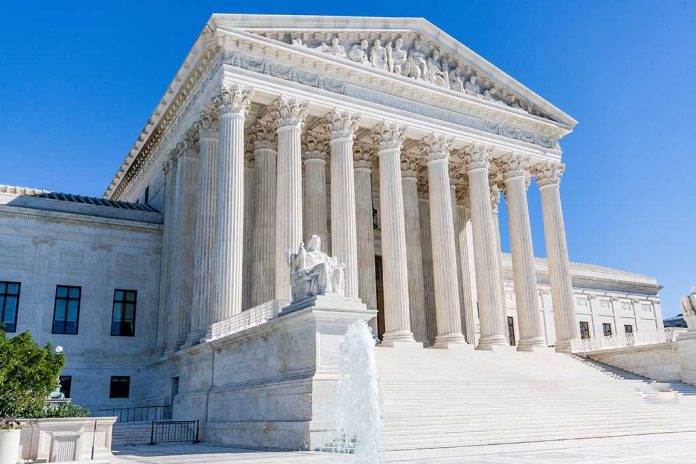 Texas vs US Immigration Case Heads to Supreme Court
(LibertySons.org) – The states along the southern border have been in a battle over the high influx of immigrants coming into the country. Some states claim the Biden administration is working against them regarding this crisis. Texas and Louisiana filed a lawsuit on the matter: United States v. Texas. The suit specifically addresses what they see as a major misstep by Secretary of Homeland Security Alejandro Mayorkas. The case is now with the US Supreme Court.
United States v. Texas:https://t.co/xaOWunPAjV

— dogwhisperer (@dogwhis65745703) November 30, 2022
On September 30, 2021, Mayorkas issued a memorandum explaining adjustments to the handling of illegal immigrants coming across the southern border. He noted the department lacked the resources to manage the incredibly high number of illegal crossers and directed agents to focus on only removing those who were a threat to the public or nation.
Texas and Louisiana saw this move as an affront. They felt the policy pushed immigration enforcement onto the states, overburdening them with the crisis. They hope to show SCOTUS that they have suffered damage at the hands of this policy, giving them the right to bring a lawsuit.
The states already had a win in the Southern District of Texas District Court. The judge ruled against the directive on June 10, 2022, halting it and reverting to the old standards.
The Biden team tried to get a reversal, but the US Court of Appeals for the 5th Circuit and the US Supreme Court both refused to stay the lower court's ruling. However, SCOTUS did agree to hear the case. The high court will look into whether this court had the right to make such a ruling and whether or not the administration is following immigration law.
~Here's to Our Liberty!
Copyright 2022, LibertySons.org