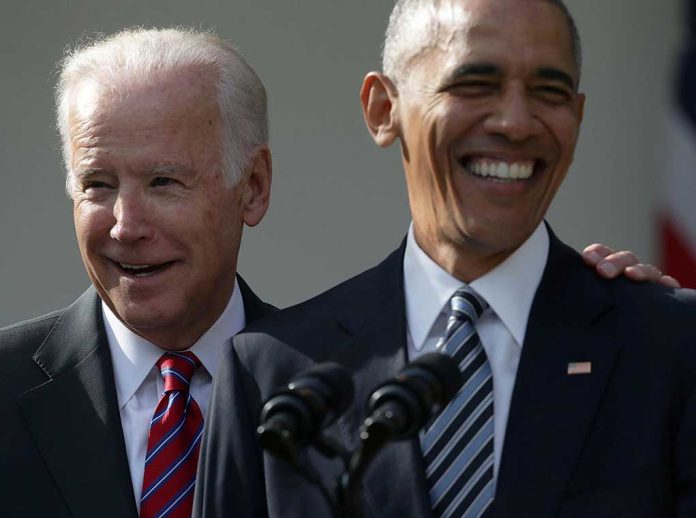 (LibertySons.org) – President Joe Biden hasn't formally announced his intention to seek reelection in 2024, but most politicos think it's inevitable. Sources close to Biden say he will likely follow his former boss's lead. NBC News correspondent Peter Alexander discussed Biden's potential reelection campaign during a recent appearance on "Meet the Press." He predicted that Biden would use a strategy he calls the "Obama model."
Alexander explained that when former President Barack Obama waited a whole year to hold any campaign events after he announced his 2012 bid for reelection. He formally announced his candidacy in April 2011 but didn't hit the campaign trail until thirteen months later, in May 2012. Alexander said that if Biden follows his former boss' lead, he too could wait until April to announce his reelection bid and hold off hosting events until early to mid-2022.
WATCH: President Biden is likely to "follow the Obama model" for a reelection campaign.@PeterAlexander: "Obama waited 13 months after the announcement to start campaigning. … [Biden] could make an announcement in April and wait until next year to get on the trail." pic.twitter.com/XFFWPnHPc4

— Meet the Press (@MeetThePress) February 19, 2023
Further complicating matters is Biden's age and tendency towards making gaffes while speaking in public. As a result, his presumed reelection bid has faced substantial resistance from within the Democratic Party. Age and mental acuity are assumed to play a potential role in the 2024 election, and to that end, the less time Biden spends on the road — the less opportunity he has to stumble over his words and draw attention to his advanced age.
At 80 years, Biden is already the oldest person to serve as president. If he wins a second term, he would be 82 years old at his inauguration and 86 when he departs office.
However, Biden recently got a boost in that regard. As Alexander explained, the recent recently had his annual physical checkup and passed with flying colors. Many had predicted the White House physician wouldn't address the president's mental acuity, but his report confirmed he conducted extensive neurological testing.
Perhaps, the greater issue facing Biden is his poor approval rating. It has remained below 50% throughout much of his presidency and is currently at 43%, according to the latest figures posted by FiveThirtyEight.
~Here's to Our Liberty!
Copyright 2023, LibertySons.org