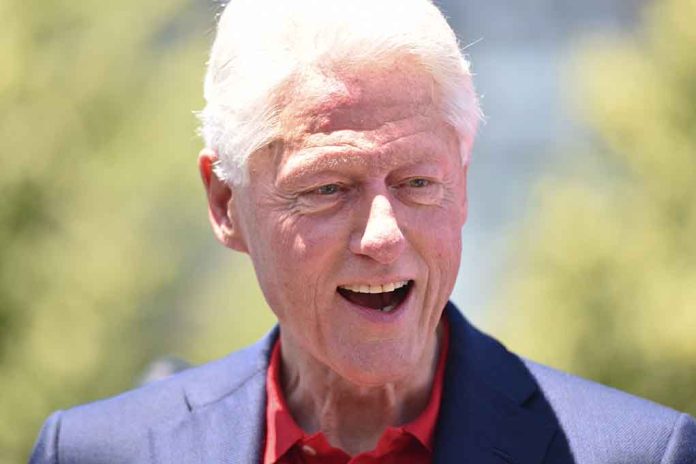 (LibertySons.org) – After decades of conflict between British troops and police, Protestants, and Catholics, Northern Ireland called for a ceasefire in 1994. However, violence continued to plague the region, that is, until the signing of the Good Friday Agreement (GFA) in 1998. As Biden was gearing up to kick off his genealogy tour, he managed somehow to take time away from his other duties to thank Bill Clinton for his role in facilitating the agreement in an obvious publicity stunt.
Celebrating Peace
As Northern Ireland celebrates the GFA, also known as the Belfast Agreement, Bill Clinton and his wife, Hillary Clinton, will take a bow as the former president is set to serve on a guarantors panel. The former Secretary of State will serve as the panel's chair.
The former president had made it a goal of his to help the people of Northern Ireland and did so when the time was right. The Daily Mail noted that according to former Representative Peter King (R-NY), Clinton "took on" the "British government" along with his own Department of State to give the leader of Sinn Fein a two-day visa to allow him to visit the US. King noted Clinton was the "first president really ever to get involved."
The 76-year-old's contributions to the cause will be honored at a major event at Queen's University in Northern Ireland's capital of Belfast. The conference will come after Biden concludes his own week-long trip to the country. Though the former president mentioned in a recent op-ed published by The Washington Post that "the process was driven by the people."
Biden's Trip
Meanwhile, Biden landed in Belfast on April 11 and delivered remarks about the GFA at Ulster University on April 12. He poured a treasure trove of compliments on Bil Clinton in an apparent effort to capture some of the spotlights. However, he will be back stateside by the time the actual celebration begins. The president traveled to the area to track down relatives in the Republic of Ireland. The United Kingdom's Secretary of State for Northern Ireland, Christopher Heaton-Harris, mentioned the president's brief visit to Northern Ireland isn't an insult, encouraging people to make the most of the situation.
As Northern Ireland looks to celebrate the GFA, and Biden is set to deliver remarks about the agreement standing for a quarter of a century, the president didn't play a major role in helping the region achieve such peace. Despite him being a member of the Senate Foreign Relations Committee throughout the 1990s, one source mentioned they couldn't recall Biden being involved at a high level or at all. Instead, they credited Senators Ted Kennedy (D-MA) and Chris Dodd (D-CT) with covering the crucial steps of the process.
~Here's to Our Liberty!
Copyright 2023, LibertySons.org