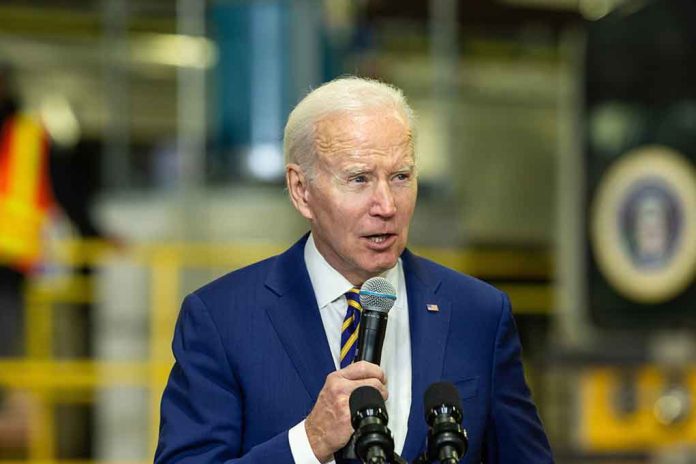 (LibertySons.org) – President Joe Biden traveled to Hiroshima, Japan, on Thursday, May 18, for the G7 meeting. He stopped at Marine Corps Air Station Iwakuni to visit with troops along the way. In what some interpret as an act of stolen valor, the president reportedly told marines at the base that his family lost his eldest son in Iraq. In fact, Beau Biden died of brain cancer in 2015 after returning from a one-year deployment to the wartorn country in 2009.
This incident marks the third time Biden has repeated the same misrepresentation regarding his son's death. He also made the claim while speaking publicly in October and November last year. In this case, the president was speaking privately with military personnel, and the press corps had difficulty hearing his remarks. Still, The New York Post reported Biden saying, "My son was a major in the U.S. Army. We lost him in Iraq."
The president has repeatedly blamed the burn pits in Iraq for causing Beau's fatal brain cancer. Still, the repeated factual gaffe brings into question Biden's suitability for a second term. Voters weighed in with their opinions in several recent surveys.
A Yahoo News Survey politics poll conducted by YouGov between May 5 and 8 among 1584 respondents found 64% of those surveyed, including 48% of Democrats and 69% of Independents, believe Biden is too old to serve another term as president. The same poll found the commander-in-chief's physical health and mental acuity concerned 65% of those surveyed. That included 49% of Democrats and 69% of Independents queried.
The Washington Post-ABC poll conducted among 1006 adults between April 28 and May 3 found only 32% believe the president has the mental acuity required to continue as president, while only 33% feel he retains adequate physical health to serve another term. Additionally, 43% of respondents said both Biden and Trump are too old to seek the presidency again.
Finally, a Marist/PBS News Hour poll of 1286 adults between May 15 and 18 revealed 62% of Americans, including 36% of Democrats and 69% of Independents, consider Biden's mental fitness a concern as he seeks another term. Still, 43% of respondents say political operatives in both parties are using the issue against their opponents.
~Here's to Our Liberty!
Copyright 2023, LibertySons.org