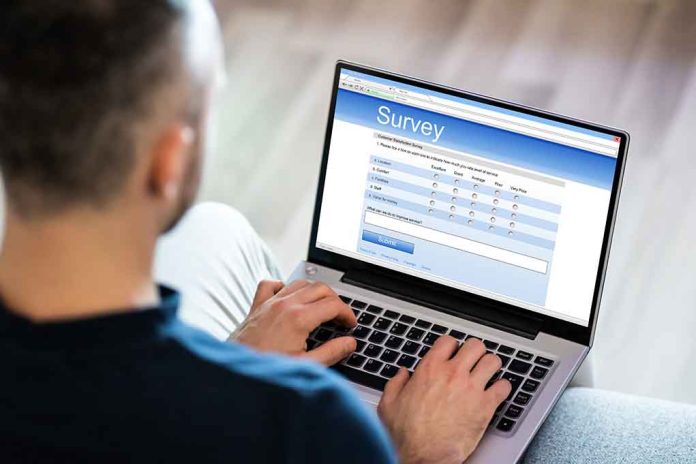 (LibertySons.org) – A tentative debt ceiling deal worked through the House on Tuesday, May 30, narrowly passing the House Rules Committee by a partisan vote of seven to six to move on to a full House floor vote on Wednesday. However, the contentious negotiations haven't done President Joe Biden's approval ratings any favors, according to a recent poll. The survey found Biden is suffering the third lowest approval rating of his presidency.
A new Gallup poll, involving a random sampling of 1,011 adults with a 4% relative margin of error, found only 39% of Americans approve of Biden's job as president. Partisans remain sharply divided in their assessments, with 84% of Democrats giving the commander-in-chief's job performance a thumbs up, while only 4% of Republicans did. Approaching the overall average, 33% of Independent voters approved of the POTUS's work.
The rating is nearly as low as Biden's all-time worst Gallup poll performance rating of 37% in April. Pundits offered reasons ranging from the slowing economy to voter concerns over the president's age and acuity after he announced his reelection bid. Fears over quickly rising inflation pushed Biden to his second-lowest Gallup approval numbers in July of 2022 when only 38% of voters felt he was on the right track leading the nation.
The same poll evaluated Congressional job approval, finding only 20% of Americans agreed with the legislative body's performance, up four percentage points from April. All parties tended to agree, with 24% of Democrats, 16% of Republicans, and 17% of Independents concurring with Congress's work.
An analysis from The Washington Post examined five different polls to draw conclusions regarding voters' preferences for the debt ceiling. Drawing on data from an AP-NORC poll and a Fox News poll, the Post found a convincing majority of Americans only approved of raising the debt ceiling if the government cuts spending. Yet an NPR/PBS NewsHour/Marist national poll and a Monmouth University poll showed a slight majority of citizens believed spending cuts should remain a separate issue from raising the debt ceiling. The respondents overwhelmingly rejected default as an option in all surveys, according to the Post.
~Here's to Our Liberty!
Copyright 2023, LibertySons.org