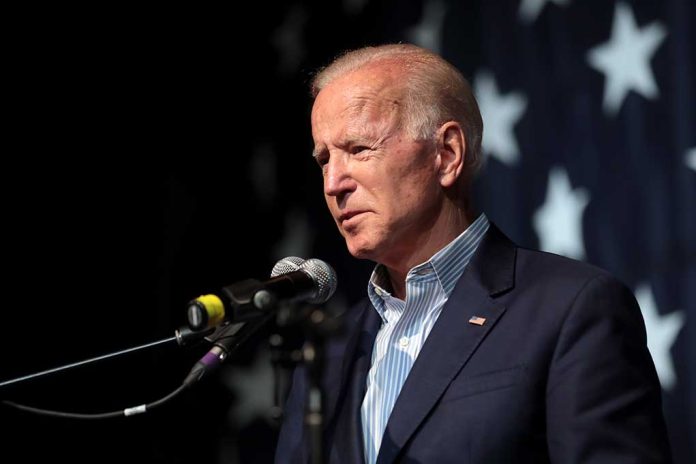 Onlookers Shocked at Biden Response to Radical Environmentalist
(LibertySons.org) – President Joe Biden addressed questions about his commitment to ending fossil fuels while speaking at a rally for New York Governor Kathy Hochul (D). On November 6, he was campaigning at the Sarah Lawrence College in Bronxville just ahead of the midterms. Near the end of his remarks and after multiple interruptions by protestors, the president had a tense exchange with an audience member about an environmental issue.
😡👇
Biden declares he wants to see 'no more drilling' during last-minute rally for Democratic Gov. Kathy Hochul https://t.co/8FUqgL82y3 #FoxBusiness

— jklmnop39 (@jklmnop39) November 7, 2022
Someone in the crowd questioned Biden about oil drilling, prompting an irritated response. The president staunchly stated, "no more drilling," and defended against suggestions he'd started new related projects. The audience member mentioned five more years of offshore drilling, specifically mentioning the Atlantic, Pacific, Antarctic and the Gulf of Mexico. The Commander in Chief countered by saying those arrangements occurred before he took office, and he was "trying to work on that."
Biden's attitude toward questions about drilling is further proof he's learned nothing about how his decisions have impacted prices at the pump. Patrick De Haan, GasBuddy petroleum analysis head, told Fox Business the president's work to stop the production of fossil fuels has been part of the reason behind US price hikes. Despite the pleas of desperate Americans, the administration's commitment to its climate agenda shows Biden has no plans to abandon moves that may have helped keep gas costs high.
~Here's to Our Liberty!
Copyright 2022, LibertySons.org