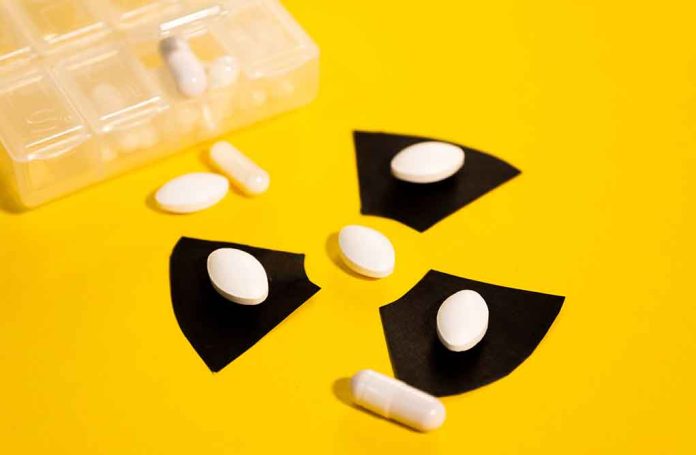 Biden Buy up $290M in Anti-Radiation Drugs As Nuclear Threat Grows
(LibertySons.org) – The Biden Administration and US Department of Health & Human Services (HHS) have announced the purchase of approximately $290 million worth of Nplate, a drug used to treat radiation poisoning and low platelet counts. According to the HHS, the investment was part of "long-standing, ongoing efforts" to prepare for unprecedented emergencies. Still, questions remain about whether the buy-in is linked to increasing aggression and threats of nuclear war from Russian President Vladimir Putin.
US buys $290 million in anti-radiation drugs amid Putin's nuke threats https://t.co/yMyQJsMldX pic.twitter.com/injQxDTU5X

— New York Post (@nypost) October 7, 2022
President Joe Biden spoke about Putin's warnings and cautioned that they represented a very real threat during an October 6 event. He expressed concern that the Russian leader might be desperate enough to launch a nuclear attack in the wake of his recent problems in the battle against Ukraine.
California-based biotechnology company Amgen helped facilitate the purchase of the drug through a partnership with the HHS. It will play a direct role in ensuring the government has reliable access to a steady supply, reducing concerns about expiration and guaranteeing emergency preparedness. Funding was arranged through the 2004 Project Bioshield Act.
Nplate treats Acute Radiation Syndrome (ARS), which typically occurs after direct exposure to extremely high levels of radiation. While potentially useful in times of war, it isn't without side effects — the drug can cause blood issues and potentially fatal clots in some patients. It is approved for use in both adults and children.
Experts theorize that Nplate could help treat individuals affected by radiation poisoning by mitigating its effects in the event of a nuclear attack. However, the HHS announcement did not specify a distribution plan should there be a need for the drug.
~Here's to Our Liberty!
Copyright 2022, LibertySons.org