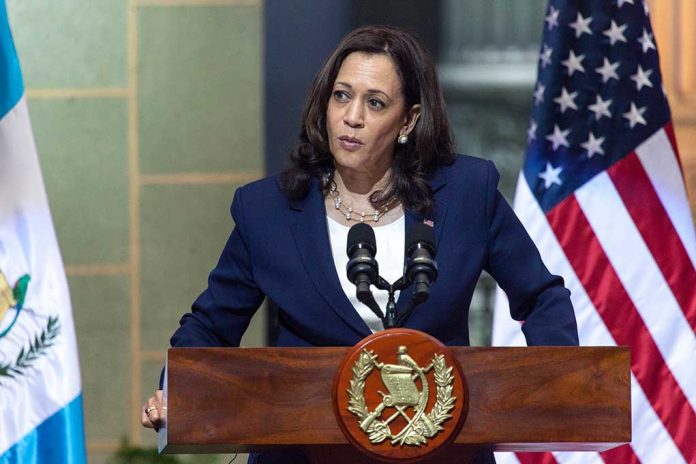 (LibertySons.org) – President Joe Biden appointed Vice President Kamala Harris to serve as his Border Czar shortly after his inauguration in January 2021. She's remained relatively quiet on the matter of border security aside from a brief trip to Mexico and Guatemala in June 2021. Likewise, she's been out of the public eye for several months, leading some to speculate that her welcome at the White House has worn thin. Things got bad enough that White House press secretary Karine Jean-Pierre was either unwilling or unable to provide an update on Harris' work during a December 2022 press conference. However, Harris has finally re-emerged to discuss her continuing efforts to address the root causes of migration during an international gathering in Washington DC, prompting mild praise from the President.
Harris spoke during the Central America Forward Launch Event at the Eisenhower Executive Building on February 6, 2023. The vice president discussed her Root Causes Strategy, a program to battle illegal migration by encouraging private-sector investments in El Salvador, Guatemala, and Honduras. Working with the Partnership for Central America, she was able to help generate more than $3 billion in investments, creating jobs and increasing access to the internet and the global financial system.
Likewise, the vice president told attendees that over a million people had been brought into the economy, four million people now have internet access, and 65,000 more have a bank account. She concluded that portion of the talk by stating that the multi-billion dollar investment is a sign the process is built to be long-term, adding that despite this, the administration already sees "positive trends."
If Kamala is doing a "good job" with the border, we'd hate to see what a bad job looks like https://t.co/epqJ1BH5XC

— Daily Caller (@DailyCaller) February 7, 2023
Even with Harris essentially disappearing for nearly eight months, President Biden believes his second in command is doing well. Reporters for Daily Caller asked the president if he felt the vice president was "doing a good job" regarding the Southern Border. Biden responded in the affirmative. "Yes, she is," he succinctly replied.
~Here's to Our Liberty!
Copyright 2023, LibertySons.org