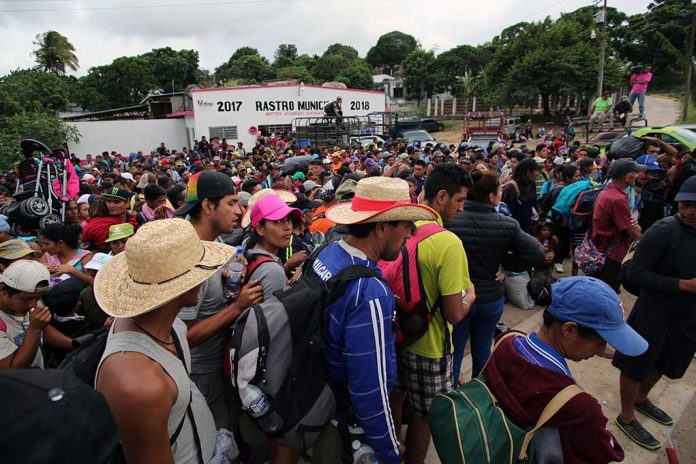 (LibertySons.org) – Controversy continues to rage concerning border security after Title 42 expulsions ended on Thursday, May 11. A prominent think tank recently claimed that Biden administration operatives were planning and coordinating illegal immigration with Mexican immigration authorities. If true, the allegations would put the administration at odds with the State of Texas and federal law.
According to Todd Bensman of the Center for Immigration Studies (CIS), a brain trust that advises Conservatives on policies and strategies, officers with Mexico's border control service, Instituto Nacional de Migración (INM), told him they have coordinated releases of groups crossing the Rio Grande at the Brownsville border crossing by communicating via WhatsApp chats with US Customs and Border Protection agents.
Report: Biden DHS Coordinating Illegal Migration With Mexican Law Enforcement
https://t.co/NKKo9KMI6m

— Todd Bensman (@BensmanTodd) May 15, 2023
Bensman reported that INM officials told him they would signal a release of groups of 100 to 150 people to swim across the river after receiving an indication that the CBP had finished processing the previous batch. In the days leading up to the end of Title 42, Bensman said as many as 3000 immigrants per day swam across the border unopposed by either Mexican or US authorities.
Bensman called the system a controlled-flow process and compared it to procedures used by Colombia, Panama, and Costa Rica to process the large groups of immigrants who pass through those nations on their way to America's southern border. Bensman alleged there was no effort to stop, block, or deter the instances of illegal immigration as required by federal law.
Additionally, Bensman said the alleged CBP policy would embody a rare federal protocol demonstrating "formal acquiescence to illegal immigration and an official willingness to accommodate mass illegal immigration." He also pointed out the strategy would further enflame tensions between Texas Governor Greg Abbott (R) and the Biden administration.
Looks like a looong Mexican standoff between Texas and the Biden DHS, which has been orchestrating immigrant swims in for two weeks now, according to exclusive @CIS_org reporting pic.twitter.com/yEDlNfj3jc

— Todd Bensman (@BensmanTodd) May 11, 2023
Frustrated with the border situation and the Biden administration's response, Abbott appointed Texas Border Czar Mike Banks in February 2023. Banks and Abbott also deployed the Texas Tactical Border Force earlier this month to assist in maintaining the state's borders by erecting razor wire barriers, employing drone teams to patrol remote areas, and providing resources to law enforcement to catch gotaways.
~Here's to Our Liberty!
Copyright 2023, LibertySons.org