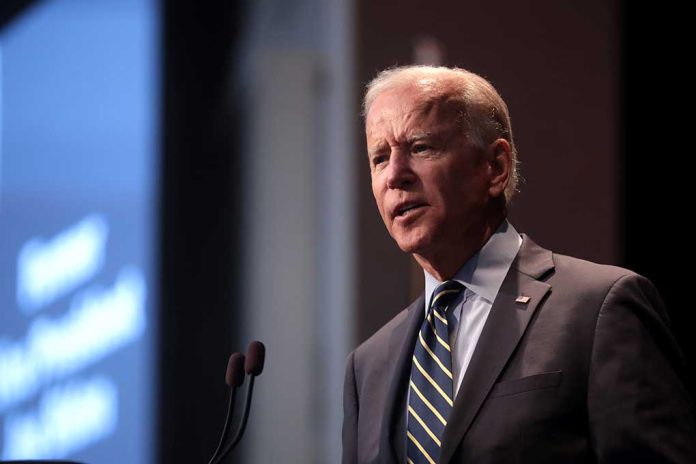 (LibertySons.org) – President Joe Biden entered the Oval Office with an approval rating of 57%, according to Gallup. However, he quickly saw his numbers go down, dropping to 48.9% after his first year. Things haven't gotten any better for Biden as his numbers continue to tumble.
The latest polling from Gallup indicates that Biden's approval rating is at 40%. The analytics company noted the president's rating has hovered between 40% to 42% for months, with the latest being his sixth reading in that range.
The four issues Biden is struggling to gain approval in are the economy, with only 32% approving; foreign affairs and energy policy, each at 38%; and the environment, where despite his push to go green, he only has an approval rating of 43%.
President Joe Biden's latest job approval rating is 40%, his sixth consecutive reading in the 40% to 42% range. https://t.co/fgn5XwKFIL

— GallupNews (@GallupNews) March 28, 2023
The president started off strong among members of his own party, gaining an approval rating of 98% among registered Democrats upon entering office. But even this number has slipped over time, dropping to 87%. The downward trend was contagious among Independents, who once largely approved Biden at 61%. Now, only a mere 35% approve of the president.
Unsurprisingly, Biden hasn't polled well with Republicans. While he has seen slight upticks here and there, overall, he's lost almost all of the GOP's approval, going from a high of 12% to his all-time low of 3%. All of these numbers transfer over into how each demographic feels the president is handling key issues.
Democrats largely approve of how Biden has handled the economy, environment, energy, and foreign affairs. Meanwhile, only a moderate number of Independents feel the same, even then, they're still in the minority on all four issues. When it comes to Republicans, Biden's most recent numbers don't even get into double digits, with most of the GOP's approval coming from Biden's environmental policy.
~Here's to Our Liberty!
Copyright 2023, LibertySons.org