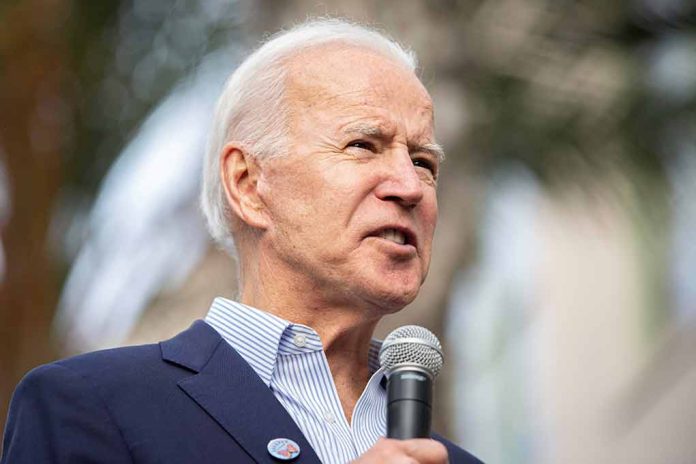 (LibertySons.org) – From the outset, critics have accused President Joe Biden of making questionable appointments to satisfy leftist "woke" goals. Others have accused the administration of becoming a revolving door. Now, Lexie Grüber-Pérez, a 2021 hire who lasted only six months on the job, has raised eyebrows after news outlets revealed the woman's seeming vendetta stemming from a 2018 Halloween party incident.
Questionable Choices
Many people feel Biden has made questionable staffing choices. From Kamala Harris and Xavier Becerra to Sam Brinton, the administration has consistently fallen back on identity politics rather than talent or experience.
In September 2021, the administration hired 28-year-old Lexie Grüber-Pérez, a woman of Puerto Rican descent who grew up in the foster care system, as a senior advisor to the Administration on Children, Youth, and Families. She had a long history of child advocacy, graduated magna cum laude from Quinnipiac University with a political science degree, and wanted to stop discrimination and family separation based on personal experiences.
Yet, Grüber-Pérez also had a dark history of pursuing what some might see as a vindictive vendetta in the name of anti-discrimination.
The 2018 Halloween Incident
Grüber-Pérez and her friends attended one of Tom Toles' legendary Halloween parties in 2018. The Washington Post editorial cartoonist hosts the affairs at his home annually, boasting an eclectic mix of people and inspiring outrageous costumes, witty banter, dancing, and drinking.
At the party, Grüber-Pérez's interracial group encountered a woman in blackface makeup wearing a business suit and a name tag that said, "Hello, My Name is Megyn Kelly." The costume immediately offended the activist and her friends, and they told the woman as much, but she tried to explain that she was mocking Kelly for her tone-deaf defense of blackface earlier that week.
Undeterred, Grüber-Pérez loudly lectured the woman at length about the history of blackface and the consequences people of color suffered, explaining why her choice was so offensive before she and her entourage left the party distraught.
The woman, Sue Schafer, a graphic designer, also left the party upset and ashamed after asking her cousin to drive her home to avoid encountering anyone else. Schafer called Toles the next morning and apologized for her costume choice. Toles said, "She did not come with the intent to confront, embarrass, ridicule or insult anybody," according to The Washington Post.
Forcing an Investigation
While the situation was regrettable, some might wonder why The Washington Post published a 3,000-word feature about the private episode in June 2020, nearly 20 months later, causing Schafer to lose her job. Called to action by George Floyd's murder on May 25, 2020, and the subsequent protests, Grüber-Pérez felt she needed to identify the overt racism she experienced.
The activist emailed Toles in early June, demanding the name of the woman who attended his 2018 Halloween party in blackface. Toles apologized for Grüber-Pérez's experience that night but denied knowing the woman's identity. Then, Grüber-Pérez reached out to Margaret Sullivan, the Post's media columnist, because she suspected the unidentified woman was a content producer for the outlet, according to New York Magazine.
Editors at The Washington Post believed they had to move forward with the story because it involved prominent staff members. Yet, Grüber-Pérez expressed shock at people's negative reactions after the paper published the feature. She had expected the article would hold Toles and other party-goers more accountable for not acting against Schafer.
~Here's to Our Liberty!
Copyright 2023, LibertySons.org