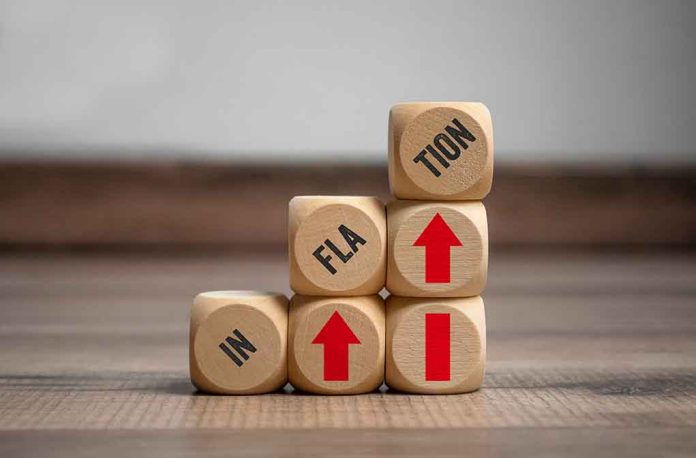 Inflation Maintains Death Grip on American Consumers
(LibertySons.org) – The US Bureau of Labor Statistics reported the consumer price index for all urban consumers (CPI-U) was up 0.4% in October, which means a 7.7% annualized inflation rate the month. Refinitiv economists predicted a rise of 0.5% for the month and 8% for the year. So, the reality was slightly better than anticipated, hinting at the potential for a cooldown in the economy. The findings could also indicate the government is on track with its measures to slow skyrocketing costs. Still, Americans continue to struggle under elevated prices that have many worried about how to continue paying their bills.
The True Cost of Inflation
Americans are paying for inflation. The Consumer Price Index (CPI) report showed some areas of concern that could impact spending power within the country. Housing costs are up by 0.8% for October and food expenses increased by 0.6%. Energy remains a worry, with gas up 4% and fuel oil jumping 19.8%.
Many families are already finding it tough to stay on top of basic needs. With winter coming quickly, one of the biggest concerns is how they will afford to heat their homes.
The Reaction
The response to the CPI release was mixed. Chief Economist at Moody's Analytics, Mark Zandi, said the number shows the economy is on the downside of a peak in inflation. He expressed his feelings that lower numbers are sure to keep coming. But State Street Global Advisors' chief investment strategist, Michael Arone, noted some investors are getting too excited too quickly, and being cautious is the better approach.
Arone was referring to the impact the CPI figure had on the stock market, which saw a considerable surge with the Dow up by about 1,200 points after the data release. Investors have high hopes the good overall number in October will help the Federal Reserve tame its interest hikes.
The Fed has jacked up rates four times this year, with the latest increase on November 2. The agency is acting as a direct response to inflation. The entity blames the COVID-19 pandemic for the out-of-control numbers, which caused consumer demand "imbalances" for goods and supply chain issues, in addition to problems caused by the Russia-Ukraine conflict. The reserve stated its intention to continue increasing rates as needed to get inflation down to 2%, but the US remains far from that goal.
The bottom line is inflation remains a problem. A smaller-than-expected change does not outweigh the fact that costs are still rising. Until the US completely cools and returns to prices that better match wages, there is a reason for concern.
~Here's to Our Liberty!
Copyright 2022, LibertySons.org