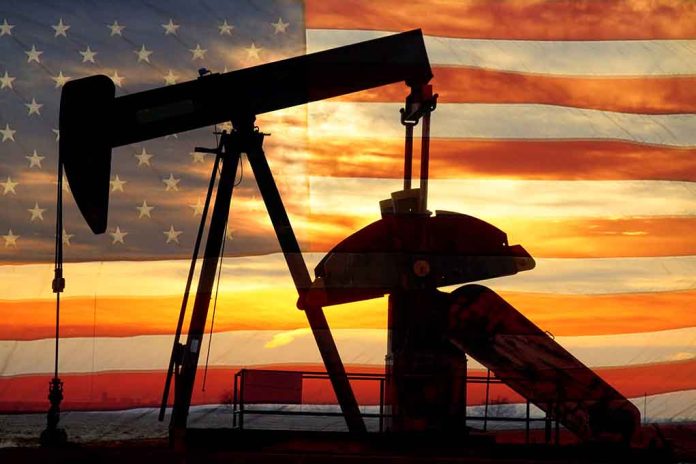 Joe Biden Deploys Reserves in Rare Public Order…
(LibertySons.org) – President Joe Biden is releasing another round of oil reserves to combat high prices at the gas pumps. Roughly 45 million more barrels of oil are headed to market, which some say won't make a dent, while others call the move a political stunt. Very few people say that it will do any real good for struggling American families.
Gas Prices Headed Down? Biden Releases More Oil From Strategic Petroleum Reserve #SmartNews https://t.co/oZygTE9U5U

— NPR (@NPR98702124) June 15, 2022
Back in March, when Biden made the big announcement of the first release from the Strategic Petroleum Reserve, he criticized oil companies for putting profits above people. This round, which might provide a few days of relief, may not last long enough to take the shock out of the $6 per gallon gasoline prices some analysts predict is on the way.
Representative Marjorie Taylor Greene (R-GA) noted that it might make a small difference for a few days but ultimately Biden and his party seek to destroy what emergency reserves the US has rather than providing any actual relief:
Joe Biden AND the Democrats are intentionally destroying our emergency supply of oil.

Releasing another 45 million barrels of oil from the Strategic Petroleum Reserve gives us roughly 2 maybe 3 days worth of oil.

Coast to stop lights everyone. 🤦‍♀️

— Rep. Marjorie Taylor Greene🇺🇸 (@RepMTG) June 14, 2022
Political commentator and Attorney Steve Milloy reminded the president what the Strategic Petroleum Reserves are meant to do: provide oil to Americans when there are supply issues. Summer prices usually spike across the United States, so the costs will likely be higher no matter how much Biden pulls from our reserves.
The purpose of the Strategic Petroleum Reserve is to supply oil when supplies are limited.

The purpose is not to lower the price of oil, which is impossible to do via SPR releases. https://t.co/VndWNHg6pf

— Steve Milloy (@JunkScience) June 14, 2022
Price, not supply, is the issue, and liquidating 45 million barrels of the country's oil stockpile for a shot at a few cents off for less than a week doesn't seem like the best approach to many.
~Here's to Our Liberty!
Copyright 2022, LibertySons.org