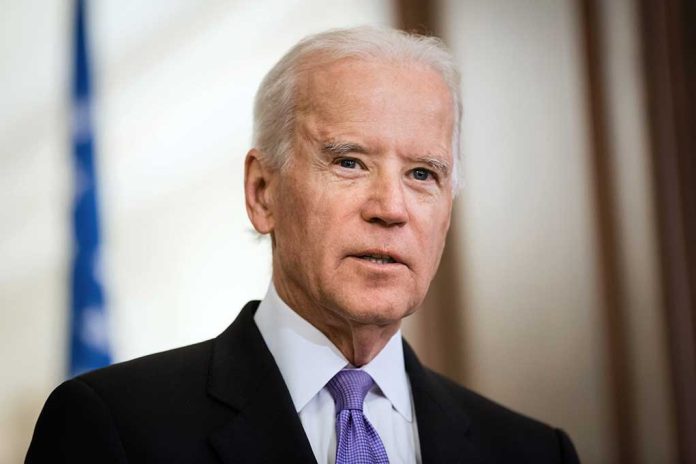 (LibertySons.org) – On January 8, President Joe Biden made his first trip to the southern border since taking office. He visited El Paso, Texas, and upon landing at the airport, he met a delegation of officials including Texas Governor Greg Abbott (R). The Lone Star State leader handed the president a letter while they were on the tarmac, which evidently went unread, causing some eyebrows to rise.
Today, I met with President Biden during his first visit to the border.

I hand-delivered a letter asking him to do his constitutional duty to secure our border and keep Texans — and Americans — safe.

Full letter: https://t.co/04B6hYfKRJ pic.twitter.com/bAHxCbBNJ8

— Gov. Greg Abbott (@GovAbbott) January 8, 2023
In the missive Abbott penned, he was blunt in his criticism of Biden and his border policies. The governor pointed to the failure of the administration to secure the region to the detriment of border states. He outlined his feelings and recommendations on what the president must do to fix the crisis.
The correspondence began by telling Biden he was late in getting to the border, and despite his finally making the trip, the president's plans didn't even include visiting the areas where illegal entries typically occur. Abbott called the trip a photo opportunity without any substance.
Abbott also compared Biden to Trump. He explained the former Commander in Chief took illegal crossings to an all-time low, but that Biden has achieved all-time highs. The governor pointed out the detrimental effects this has had on Texans.
The letter wrapped up with Abbott telling Biden to enforce the laws already on the books. He also implored the president to prosecute people entering illegally and allow agents to remove those who shouldn't be here. The governor declared Biden must start building the wall in Texas and asked him to label the drug cartels in Mexico as terrorist organizations.
Biden didn't address the claims, and might not have read the letter at all. National Security Council Coordinator John Kirby spoke about the matter on Fox News' "Your World" on January 9. When host Neil Cavuto asked him about the snub, Kirby replied that the president already knew what was in the letter because Abbott had been clear about his feelings, so there wasn't a need to read it.
~Here's to Our Liberty!
Copyright 2023, LibertySons.org