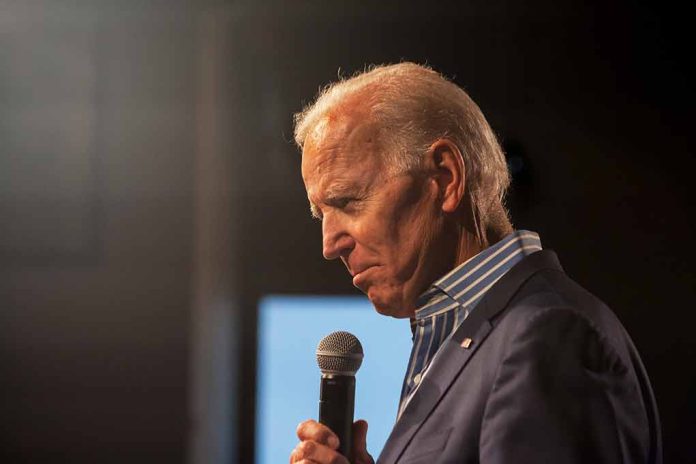 (LibertySons.org) – President Joe Biden set off yet another social media firestorm by making an embarrassing mistake on an X tweet. The post, since deleted, attempted to praise the leader of Vietnam, Vo Van Thuong, and thanked him for their recent interactions at the Group of 20 leaders' (G20) summit. The 80-year-old commander-in-chief included a photo to seal his point, but the man in the image wasn't Thuong.
The New York Post reports that the picture was of Biden and Vietnam's National Assembly Chairman Vuong Dinh Hue. The mistake was easy to make: Both men wear glasses and have similar hairstyles. The post quietly disappeared, but not before other users had a laugh at the 80-year-old president's expense.
Biden apparently embarrassed himself while at the G20 summit meeting as well. Fox News states that he rambled about John Wayne, Indians, and Union Soldiers before referencing an obscure movie quote, calling climate deniers "lying, dog-faced pony soldiers." X users had a heyday with that statement, with one person questioning whether the movie in question even existed and another asking for help interpreting what the president was trying to say. Yet another called the reference "borderline racist."
Other recent presidential gaffes, according to The Independent, include Biden's confusion between Ukraine and Iraq, his strange utterance of "God save the Queen, man!" at the end of a speech on gun control, and an accidental addressing of UK Prime Minister Rishi Sunak as "Mr. President." Biden previously made headlines for tripping and falling at a military graduation speech engagement and sleeping at a climate change conference.
Many people see Biden's flubs as evidence that he's too far past his prime to run for another four years. The Associated Press shares that 77% of Americans believe he's too old to serve another term. That figure includes 69% of Democrats.
~Here's to Our Liberty!
Copyright 2023, LibertySons.org