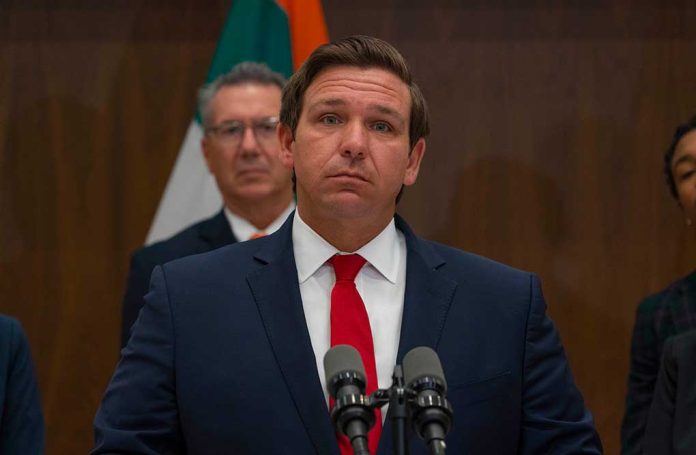 (LibertySons.org) – Florida Governor Ron DeSantis's office recently issued a press release announcing that the Republican leader would be hosting an educational event. However, not everyone agreed with what the office had to say and took matters into their own hands. A well-known mainstream media outlet recently fired one of their reporters who targeted DeSantis.
Axios contributor Ben Montgomery sent a hostile email to the governor's office in reference to the statement, stating that "this is propaganda, not a press release." Alex Lanfranconi, Florida Department of Education's communications director, subsequently released a screenshot of the message.
This afternoon, Tampa based @axios journalist @gangrey decided to respond to our press release with the below. pic.twitter.com/XkL5nBwZSs

— Alex Lanfranconi (@AlexLanfran) March 13, 2023
Lanfranconi made sure to tag both Montgomery and his place of employment at the time, advising that this was how he decided to respond to the governor's press release. Vanity Fair contributor Charlotte Klein was one of the first reporters to announce the news of Montgomery's termination using her Twitter account.
News: Axios fired @gangrey on Monday over this email https://t.co/YcuaBUiRfd

— Charlotte Klein (@charlottetklein) March 15, 2023
According to The Washington Post, Sara Kehaulani Goo, the editor-in-chief at Axios, confirmed that Montgomery was longer employed with the company. However, she declined to offer additional details surrounding his departure.
However, Montgomery confirmed that he received a call from Axios Locals' executive editor, Jamie Stockwell. Montgomery recalled that during the phone call, Stockwell asked him if he sent the email prior to declaring his reputation had been "irreparably tarnished." He quickly followed up by terminating him.
Christina Pushaw, DeSantis' rapid response director, also criticized the reporter in a post on Twitter. Pushaw noted that Montgomery "should have considered being a journalist" before sending the email. He also accused Montgomery of being "an activist or propagandist."
Perhaps he should have considered being a journalist, not an activist or propagandist.

— Christina Pushaw 🐊 🇺🇸 (@ChristinaPushaw) March 15, 2023
As for the unemployed reporter, he seemed unphased by the situation. Montgomery replied to the news of Axios firing him by sharing "some personal news." The ex-journalist added that he "made crepes," claiming it was "the first time in years."
~Here's to Our Liberty!
Copyright 2023, LibertySons.org