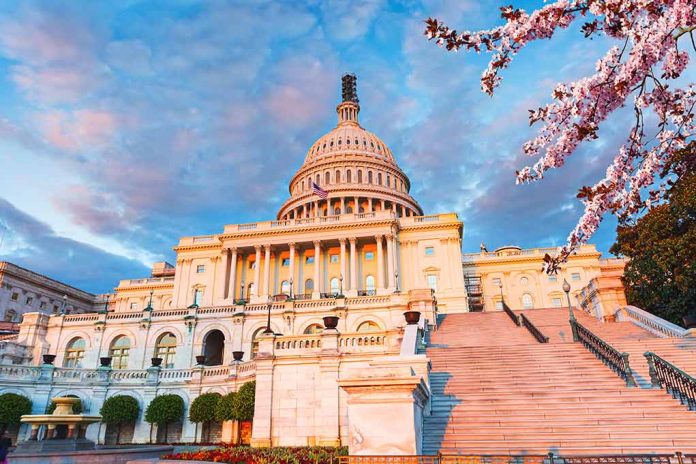 (LibertySons.org) – Arkansas Gov. Sarah Huckabee Sanders (R) called lawmakers into a special legislative session on Friday, September 8, to ban certain health mandates, cut taxes for businesses and citizens, and fulfill a special security request. The conservative governor asked the legislature to modify Arkansas's Freedom of Information Act (FOIA) to shield information about security for her and her family, including travel and expense records.
On September 14, Sanders signed a bipartisan bill, modified from the original proposal, restricting the release of her travel and security records, effective immediately. The governor celebrated the measure as a valuable protection for law enforcement officers protecting her and her family.
Credible Threats
Sanders and others argued that her involvement in the Trump administration has provided her with a higher profile than past governors have enjoyed, but it has also made her and her family targets. David Ray, a GOP state House member, told colleagues ahead of the vote that none of Arkansas's recent governors were "household" names as Sanders has become.
Micheal McCarty, 74, from Russellville, Arkansas, made public threats about wanting to shoot Sanders and former Gov. Asa Hutchinson last year, according to the Courier News. He became angry after going to a local real estate office, and the agent called the police to report the threats.
In August, Tyler Jay Marshall, a 37-year-old from Enid, Oklahoma, pleaded guilty to threatening to kill Sanders and Oklahoma Gov. Kevin Stitt (R), Florida Gov. Ron DeSantis (R), and Texas Sen. Ted Cruz (R), among others. Marshall made his threats on X, formerly Twitter, often while drunk.
In her plea before lawmakers, Sanders pointed out that blocking FOIA requests about policy-making and legal strategies would benefit the state by streamlining efficiency because those who entered the petitions had no legitimate desire for the information. She called critics' claims about maintaining government transparency disingenuous. Moreover, the governor said requesters only wanted "to waste taxpayer dollars, slow down our bold conservative agenda, and, frankly, put my family's lives at stake."
BiPartisan Criticisms
Yet, Sanders received pushback from both sides of the aisle. Notably, two conservative GOP groups chimed in with criticism. The Pulaski County Republican Committee chided, "This is not about 'security' in any sense of the word," on Facebook. Americans for Prosperity praised Sanders' tax-cutting measures but roundly criticized her for attempting to cloud government transparency, which it called a "cornerstone of democracy."
Investigative journalist Matthew Moore or KUAF public radio examined the governor's claims that FOIA requesters were using the information to stalk the governor or slow down state government efficiency. Ahead of the passage of the new bill, he submitted a FOIA petition asking how many requests about the governor's travel and expenses the state had received that year.
Moore found a total of five, one of which was his. Matt Campbell, an independent journalist, blogger for the Blue Hog Report, and lawyer, had made three of the requests, and the last came from Mike Wickline, a reporter from the Arkansas Democrat-Gazette. None came from McCarty or Marshall, and the reporters posed no threat to the governor's family. Campbell wondered whether Sanders was more concerned about the types of expenditures reporters might find.
The governor called the bipartisan measure a great "first step" toward revamping the FOIA. She suggested the state still had work to do in that area and should consider using Florida's changes to its FOIA as a model.
~Here's to Our Liberty!
Copyright 2023, LibertySons.org