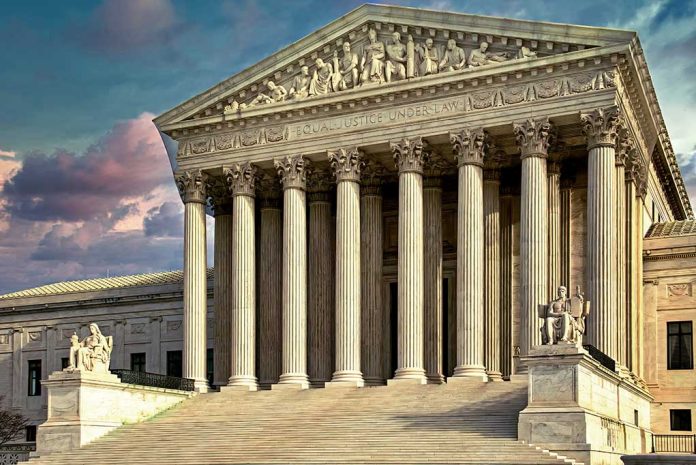 AOC Calls For IMPEACHMENT Again – It's Not Trump This Time
(LibertySons.org) – On a June 26 appearance on NBC's "Meet the Press," Representative Alexandria Ocasio-Cortez (D-NY) made the bold statement that she would like to see Supreme Court Justices impeached for their decision in the abortion rights case. The lawmaker claims that Justices Neil Gorsuch and Brett Kavanaugh lied under oath during their confirmation hearings. She said if Congress doesn't impeach them, it will set a terrible precedent that potential nominees can tell lies to get on the bench.
AOC proposes impeachment for Supreme Court justices who "lied under oath" https://t.co/BURfLap2CL

— Mary Murray (@MaryMurrayNBC) June 27, 2022
AOC said many senators only voted for the justices' confirmation because of how the nominees responded to questions about Roe v. Wade. She noted the two misled with their answers, making it seem as if the prospective justices felt it was a precedent that shouldn't change. The representative feels the judges must face consequences. AOC also remarked that the Court "dramatically overreached its authority" with the ruling.
During his confirmation hearing, Justice Gorsuch's responses about future abortion cases said he would base his decisions on the facts in each situation. He noted he could not tell the senators "how I would rule in a particular case." He further explained that making such a promise violates the independent judiciary for a nominee to agree to rule a certain way to "win confirmation."
Justice Brett Kavanaugh stated he understood "the importance of the precedent set forth" in Roe. He also called it a settled matter because the Court has repeatedly reaffirmed it. When asked about his stance, Kavanaugh remarked the case is an "important precedent."
AOC isn't alone in her opinion or her desire to somehow punish the Justices for their decision. Many people are upset. Is the government doing enough to protect the Supreme Court Justices in the wake of this controversial decision?
~Here's to Our Liberty!
Copyright 2022, LibertySons.org