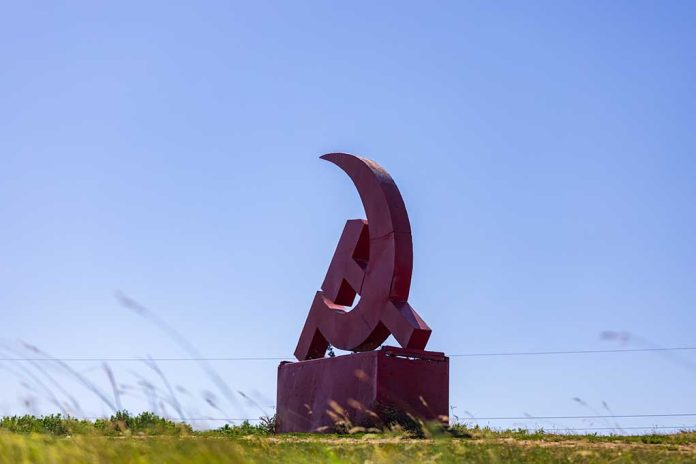 Leftist Group Leader Charged – It's Not Pretty
(LibertySons.org) – The FBI, in conjunction with the Fayetteville Police Department, is investigating Black Hammer, an extremist organization known for anti-Semitic and anti-white rhetoric. The group faces various accusations, including sex trafficking, weapons and drug charges, and kidnapping. Authorities have been closing in on these and other crimes since its leaders landed in police custody in July.
Black Hammer Background
The organization began in 2019. Led by Augustus Romain, who goes by Gazi Kodzo, the group has a sordid history full of violence and extreme views. Kodzo, or "the commander," once boasted about burning "The Diary of Anne Frank." Members pride themselves on racial separatism and blame all issues minorities face on whites and Jews.
Y'all yts keep asking us how we're going to keep ourselves warm up in the mountains? Don't y'all already know it just takes a good book to burn and some nice wood 🪵🔥. And best believe we have plenty of copies to keep us warm all season long 😌 pic.twitter.com/avv17SrXWv

— BH Times 🇷🇺 (@BlkHmmrTimes) May 4, 2021
The operation has a home base in Atlanta, Georgia, but once tried to build a commune in Colorado called Hammer City. Bad planning, controversy, and disorganization led to failure, and they ended up not purchasing the land for their "utopian society" after all. A heated run-in with locals, reportedly involving weapons and threats, caused the property seller to back out of the deal, and police issued an order to vacate.
Murmurings from former members say the organization uses drugs to control the ranks, and Kodzo issues belittling punishments when he feels disobeyed. Some said he forced his people to sell plasma and drain retirement accounts to fund the club.
The Arrest of the Leader
Police arrested the commander in Fayetteville, Georgia, on July 19. Charges included aggravated assault, kidnapping, gang activity, false imprisonment, and sodomy. Officials also took the association's second in command, Xavier "Colonel Keno" Rushin, into custody. The men both remain in jail with no bond.
Black Hammer in Court
Kodzo went to court on August 16, but prosecutors are finding it difficult to prove the case because the main witness for some of the charges, Delvin Moore, has nobody to corroborate his kidnapping story.
The extremists are putting up a fight against the charges, saying authorities set them up due to an opposition of their views on politics. Defense attorneys also refused to accept the "gang activity" charges because they claim Black Hammer is a political organization.
In addition, there are allegations the leaders have been recruiting homeless people and giving them firearms, but there are no pending indictments on that matter.
The Future Looks Bleak
While Black Hammer seems to be facing many issues in Georgia and with the FBI, there is more. In Tampa, Florida, a federal indictment drew links between Romain, his group, and a Russian citizen. The indictment shows an alleged scheme between them that involved "sow[ing] discord" within US politics.
The federal bureau declined to make any comments about the ongoing investigations into the radical group and its activities.
~Here's to Our Liberty!
Copyright 2022, LibertySons.org