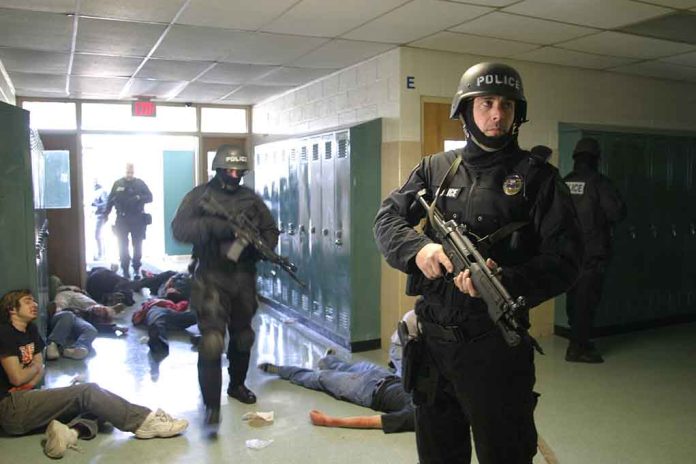 St. Louis High School Shooting Leaves 3+ Dead, Multiple More Injured
(LibertySons.org) – A school shooting in St. Louis, Missouri, left three people dead, including the suspect, and several others injured. The incident occurred on October 24 at the Central Visual and Performing Arts High School. A 19-year-old former student managed to get into the building, but swift action by on-site security and local law enforcement halted his killing spree before he could cause mass casualties.
This is devastating. Jackie and I are praying for the victims, their families, the students, and faculty of the Central Visual and Performing Arts high school.https://t.co/uRln756uV4

— Blaine Luetkemeyer (@RepBlaine) October 24, 2022
The school had security guards manning all the locked exterior doors, and it was one of these workers who noticed an armed Orlando Harris trying to gain entry. The guard alerted law enforcement, but the teen managed to get into the building anyway. Students reported he told them they would all die.
He shot a teacher and a student before officers arrived. Harris shut himself into a classroom and exchanged gunfire with police, suffering fatal wounds and later dying at the hospital.
The operation took under an hour from the time the shooter entered the school until the police gave the all-clear. The initial 911 call was around 9:11 a.m., and officers had the suspect in custody by 9:32 a.m. The FBI declared the situation clear by 10:05 a.m.
The investigation is ongoing, but St. Louis Police Commissioner Michael Sack revealed Harris had over 600 rounds of ammunition on him at the time, some in a bag and some strapped to his body. They also recovered a note the teen wrote in which he expressed feeling alone and said he had nobody in his life. Sack refused, for safety reasons, to expose how the suspect got into the building.
Jean Kuczka, a 61-year-old physical education and health teacher, was one of the victims. She went to the hospital, where she died of her injuries. The other fatality was 16-year-old sophomore and school dance team member Alexzandria Bell, who died at the scene. Seven other students suffered non-fatal injuries.
~Here's to Our Liberty!
Copyright 2022, LibertySons.org