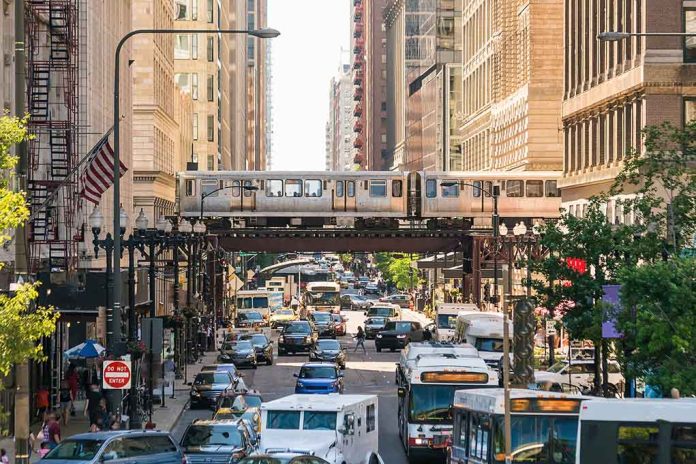 50+ Shot Over Weekend In Chicago
(LibertySons.org) – Chicago streets were deadly over the weekend of October 21. Gun violence is nothing new for the city, but this period saw extreme aggression targeting teens, and one incident involved alleged gang members. The police stayed busy responding to calls of shots fired for 43 incidents with 51 victims.
Chicago police said that over the weekend there were 51 people shot, 10 fatally, including three men with gang affiliations during a street racing takeover incident. https://t.co/FBsXQX5GCo

— News Pug (@news_pug) October 24, 2022
The worst of the weekend's violence occurred in Brighton Park. Over 100 cars had gathered for a drag racing event when gunfire erupted. The unauthorized event caught the attention of police, who arrived about the time the shots began. All the victims were between the ages of 15 and 20. Authorities also said each person had gang affiliations.
Three people died at the event and two more suffered injuries. The wounded are in serious condition in the hospital, but officials believe they will survive their wounds. Police have suspects they believe were involved in the incident, but the investigation is ongoing.
Sadly, those weren't the only violent deaths over the weekend. Various incidents throughout the city led to multiple juveniles with gunshot injuries. A 16-year-old, Rishawn Hendricks, died after an ambush on South Fairfield Avenue. In addition, six other people died from gun-related situations, making the grand total 10 deceased. Another fell victim to a fatal stabbing.
Only one of these criminal cases resulted in an arrest. Officers continue to look for suspects in all the terrifying eruptions around the city.
~Here's to Our Liberty!
Copyright 2022, LibertySons.org