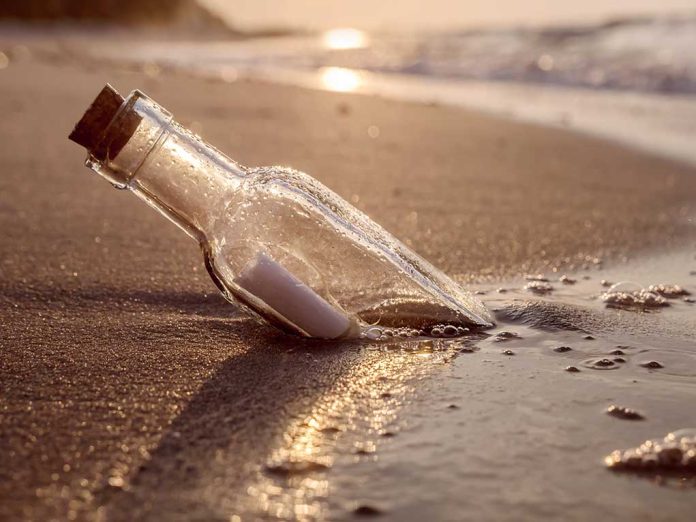 Message Found in a Bottle After Decades!
(LibertySons.org) – Around 1995, young Texan, Brian Standefer, spent the day playing outside with three of his childhood friends. The kids decided to put a message in a bottle and, just for fun, launch it into the water. After 27 years, the man had completely forgotten about the treasure, but a group of strangers who found it hunted him down to return the keepsake.
Texas man reunited with 27-year-old message in a bottle he wrote as a child#123INFOhttps://t.co/P9JYatOqeX

— 123 INFO USA (@123_INFO_USA) July 22, 2022
The Keep La Marque Beautiful Commission was cleaning up garbage at Highland Bayou Park when volunteer Terry Pettijohn noticed something half buried in the ground. Taking a closer look, he saw it was a bottle with a note inside, which gave instructions to call one of two numbers and leave a message if nobody answered. Unfortunately, neither was in service, but the signatures on the paper led the group to find Standefer on Facebook.
The now-grown man didn't remember the exact day he and his friends had thrown the container into the water. But he remembers being around 10 years old. Pettijohn apparently found the time capsule just about two miles away from its launching point.
Standefer is still close with two of the friends from the long-ago event, but one among the group recently passed away. The local likes to think his deceased buddy was the one who guided the bottle back as a way to let the old gang know he was okay. Do you believe the long-forgotten message was a way for an old playmate to reach out from beyond the grave?
~Here's to Our Liberty!
Copyright 2022, LibertySons.org